Can Bernanke's Large Shoes Be Filled?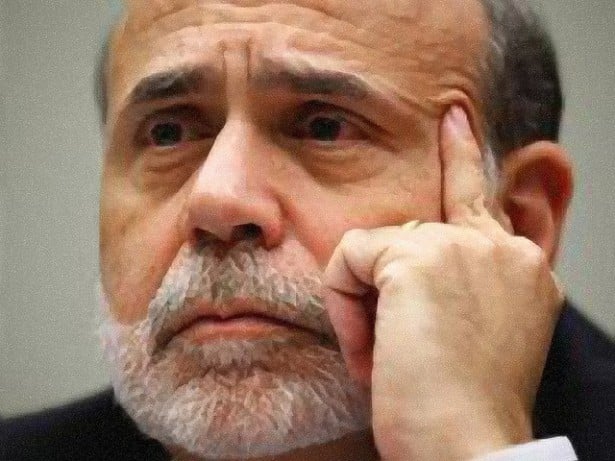 "Usually, the Fed chairman comes in with a clean slate to do whatever they want," JPMorgan Chase chief U.S. economist Michael Feroli told Bloomberg. "Whoever comes in this time is going to inherit a pretty rigid structure."
Reporters have been asking for months if the Federal Reserve Chairman Ben Bernanke would step down after his second four-year term ends at the end of next January. Neither Bernanke nor the White House has definitely answered that question, but President Barack Obama hinted last week in an interview with PBS talk show host Charlie Rose that the chairman had "already stayed a lot longer than he wanted or he was supposed to."
For his part, Bernanke has generally evaded inquiries about his plans, saying only that he was focused on strengthening the economic recovery. But, at a March news conference, he said, "I don't think that I'm the only person in the world who can manage" the winding down of the Fed's massive stimulus program.
Last week, the Federal Reserve led by Bernanke committed itself to a monetary strategy for this upcoming year and beyond that will be hard to adjust for a new chairman. Since the financial crisis hit in 2008, the U.S. central bank has purchased more than $2.5 trillion in government bonds to pump cash into the financial system and hold down long-term interest rates. The economic stimulus has been credited with jumpstarting a housing rebound and a stock market rally, both of which have been anchors to recent economic growth, minimizing the effects of the large federal spending cuts and tax hikes.
At a June 19 news conference, the Fed chairman told reporters that the central bank may begin dialing down its unprecedented bond-buying program this year and end it completely by mid-2014, provided economic growth increases and inflation nears the Fed's 2 percent target.
Bernanke has attempted to make the policy-making Federal Open Market Committee more transparent and democratic. But by de-emphasizing the role of the chairman in the committee's deliberations, he has made it more difficult for his successor to change the course of the Federal Reserve's monetary policy, noted Roberto Perli, a former Fed official and Cornerstone Macro partner. "The FOMC under a potential new chair would be largely the same as the current one, and it is unlikely that FOMC members would relinquish their authority or renege on their own policy commitments simply because a new chair may have different views," Perli wrote in a June 19 note.
So if Bernanke does decide to resign his post at the Fed, Obama will likely want to nominate a new chairman whose views on monetary policy are not much different. Not only would it be disruptive to current Fed policymaking to name a new chairman with a vastly different stance, but the president has indicated he does want to change course. In the television interview with Charlie Rose, Obama said that Bernanke has done an "outstanding job."
"I'd be quite surprised if the president nominated a chairman who wasn't broadly in agreement with the policies that the current chairman has led on the committee — an emphasis on getting the unemployment rate down and having economic activity be stronger, an emphasis on communication and transparency," former Fed Vice Chairman Donald Kohn said in an interview with Bloomberg.
Leading the lineup of possible Bernanke replacements is Janet Yellen, the current vice chairman. Since she forged the central bank's policies alongside Bernanke, she would probably be inclined to continue them, noted Deutsche Bank chief U.S. economist Joseph LaVorgna, a former economist at the New York Fed. "My guess is the next person is Janet Yellen, and she seems to be very comfortable going along with the policies to date," he told Bloomberg.
Whoever eventually assumes the mantle of leadership, will be inheriting the vestiges of the Bernanke's current regime. But once the asset purchases come to an end and the Fed decides to raise its benchmark interest rate, the new chairman "will have an opportunity to completely define the ensuing regime — the rate tightening regime," added TD Securities' Ed Green.
The Federal Reserve has attempted to explain how it will adjust policy in the future, partly out of necessity. With the short-term interest rates effectively at zero, the central bank cannot push them any lower to promote growth. So, the Fed has instead used asset purchases, and more open communication, to boost the economy. "One of the main thrusts of the Bernanke chairmanship is to help explain as best as the Federal Reserve could what their reaction function is," said Kohn.
Bernanke has said that the FOMC plans to allow a "considerable interval" to pass between ending asset purchases and the first interest-rate increase. He also reiterated that the Fed intends to keep short-term interest rates near zero at least as long as unemployment stays above 6.5 percent and the outlook for inflation does not surpass 2.5 percent. As of May, unemployment was 7.6 percent and inflation was 0.7 percent in April.
A USA Today survey of economists conducted earlier this year showed that about two-thirds believe Bernanke would leave the Fed when his term expires. "I think it's pretty clear he would like to step down at the end of this year," Moody's Analytics chief economist Mark Zandi told the publication. "He must be tired. The world was literally on his shoulders."
Follow Meghan on Twitter @MFoley_WSCS 
Don't Miss: Dallas Fed's Manufacturing Numbers Blow Past Estimates.