Can Boeing's Dreamliner Leave the Tarmac on Time?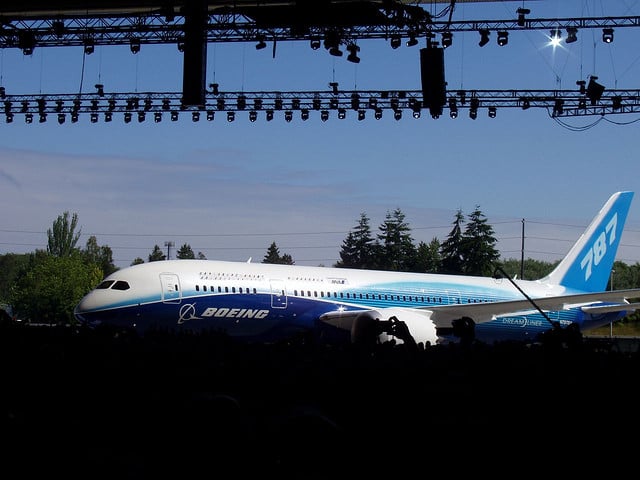 No one likes being stuck on an airport runway — sometimes it's hot, sometimes you're tired, sometimes a baby is screaming bloody murder in the seat across from you. Waiting at the gate for an hour before even taking off is no one's dream. It's good news for many, then, when the Boeing Co. (NYSE:BA) CEO says the company is working on improving its 787 Dreamliner's dispatch reliability.
Reuters reports that current reliability is sitting at 97 percent, and Chief Executive Jim McNerney said to the publication that Boeing is "making good progress." The dispatch reliability determines the likelihood of mechanical problems and the subsequent timeliness of departure. According to Reuters, Boeing's fourth quarter is going to feel the effects of high research and development costs.
On top of that, the profit margin for 787s in the third quarter have been in the "very low single digits," according to Boeing Chief Financial Officer Greg Smith. The lower numbers are a result, Smith said during a conference call, of the larger number of planes being used to calculate the cost of development for the 787. An increase of 200 planes means that there will also be a greater cost of care for more planes in use, Reuters reports.
According to Smith, Boeing is working on saving money with aftermarket sales — the equivalent of selling extra wood at the end of a house's construction, Reuters says. This effort would help increase Boeing's revenue. In a recent conference call, McNerney announced that Boeing's 777-8X and 777-9X planes will likely launch later in the year. According to Bloomberg, the craft will act as the company's response to Airbus's A350.
"We're talking to all 777 customers," Boeing's vice president of marketing, Randy Tinseth, said to Bloomberg. "As soon as we launch the 777X, we look forward to making firm orders." However, Japan Airlines made a discouraging move for Boeing, ordering around 56 of Airbus's A350s. But Japan Airlines aside, Dubai-based Emirates has plans to place an "enormous" order for Boeing's 777, according to its president, Tim Clark.
In the face of order losses from Japan Airlines, this can only be good news for Boeing. ANA Holdings Inc. is still deciding whether or not to go with Boeing's 777 or the Airbus A350.
Don't Miss: 8 Best-Value SUVs and Crossovers for 2013.