Can BP Get Past The Oil Spill?
With shares of BP (NYSE:BP) trading around $41, is BP an OUTPERFORM, WAIT AND SEE or STAY AWAY? Let's analyze the stock with the relevant sections of our CHEAT SHEET investing framework:
T = Trends for a Stock's Movement
BP is an integrated oil and gas company. The company provides its customers with fuel for transportation, energy for heat and light, lubricants and the petrochemicals products used to make everyday items as diverse as paints, clothes, and packaging. It operates in two business segments: Exploration and Production, and Refining and Marketing. BP provides essential energy products to consumer and companies worldwide. Without the oil and gas products provided, many consumers and businesses would not be able to operate on a daily basis.
BP's payouts to victims of the 2010 Deepwater Horizon spill are likely to hit the company's profits this year. The oil giant's $20 billion compensation fund that it set up after the spill has almost run dry, but the company is legally bound to give compensation whether there's money in the fund or not, meaning the consequences of the devastating spill are likely to affect BP's bottom line soon. As businesses and consumers continue to need oil and gas products and services, BP stands to see rising profits that may be eaten into by the oil spill liability.
T = Technicals on the Stock Chart are Mixed
BP stock has struggled in recent years as the oil spill has maintained stress on the company. Currently, the stock is holding a value range that has lasted for most of the year. Analyzing the price trend and its strength can be done using key simple moving averages. What are the key moving averages? The 50-day (pink), 100-day (blue), and 200-day (yellow) simple moving averages. As seen in the daily price chart below, BP is trading slightly below its key averages which signal neutral to bearish price action in the near-term.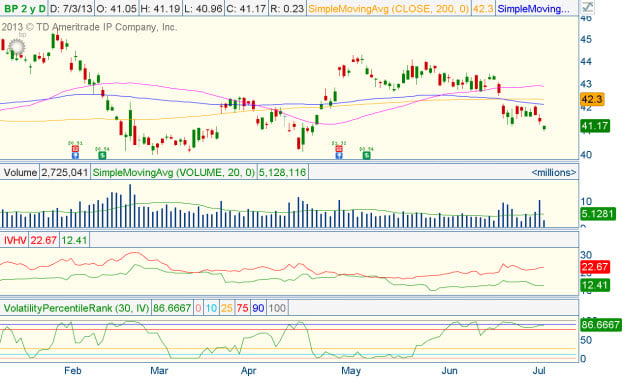 (Source: Thinkorswim)
Taking a look at the implied volatility (red) and implied volatility skew levels of BP options may help determine if investors are bullish, neutral, or bearish.
| | | | |
| --- | --- | --- | --- |
| | Implied Volatility (IV) | 30-Day IV Percentile | 90-Day IV Percentile |
| BP Options | 22.67% | 86% | 84% |
What does this mean? This means that investors or traders are buying a very significant amount of call and put options contracts, as compared to the last 30 and 90 trading days.
| | | |
| --- | --- | --- |
| | Put IV Skew | Call IV Skew |
| July Options | Steep | Average |
| August Options | Steep | Average |
As of today, there is an average demand from call buyers or sellers and high demand by put buyers or low demand by put sellers, all neutral to bearish over the next two months. To summarize, investors are buying a very significant amount of call and put option contracts and are leaning neutral to bearish over the next two months.
On the next page, let's take a look at the earnings and revenue growth rates and the conclusion.
E = Earnings Are Mixed Quarter-Over-Quarter
Rising stock prices are often strongly correlated with rising earnings and revenue growth rates. Also, the last four quarterly earnings announcement reactions help gauge investor sentiment on BP's stock. What do the last four quarterly earnings and revenue growth (Y-O-Y) figures for BP look like and more importantly, how did the markets like these numbers?
| | | | | |
| --- | --- | --- | --- | --- |
| | 2013 Q1 | 2012 Q4 | 2012 Q3 | 2012 Q2 |
| Earnings Growth (Y-O-Y) | 192.30% | -78.97% | 8.03% | -124.38% |
| Revenue Growth (Y-O-Y) | 10.06% | 7.51% | -4.72% | -8.71% |
| Earnings Reaction | 2.28% | 1.35% | 2.78% | -4.59% |
BP has seen mixed earnings and revenue figures over the last four quarters. From these numbers, the markets have been optimistic about BP's recent earnings announcements.
P = Poor Relative Performance Versus Peers and Sector
How has BP stock done relative to its peers, Chevron (NYSE:CVX), Exxon Mobil (NYSE:XOM), Royal Dutch Shell (NYSE:RDSA), and sector?
| | | | | | |
| --- | --- | --- | --- | --- | --- |
| | BP | Chevron | Exxon Mobil | Royal Dutch Shell | Sector |
| Year-to-Date Return | -1.13% | 10.07% | 4.71% | -7.95% | 3.31% |
BP has been a weak relative performer, year-to-date.
Conclusion
BP is an oil and gas company that supplies these products all around the world. The company is still hurting from the oil spill disaster witnessed three years ago and it is said that relief efforts could potentially cut into this year's profits. The stock has not made much progress and is trading in a value range. Over the last four quarters, earnings and revenue figures have been mixed, however, investors in the company have been optimistic about what they've heard during these earnings reports. Relative to its peers and sector, BP has been a weak year-to-date performer. WAIT AND SEE what BP does in coming quarters.
Using a solid investing framework such as this can help improve your stock-picking skills. Don't waste another minute — click here and get our CHEAT SHEET stock picks now.