Can Coal Compete With Natural Gas As Prices Rise?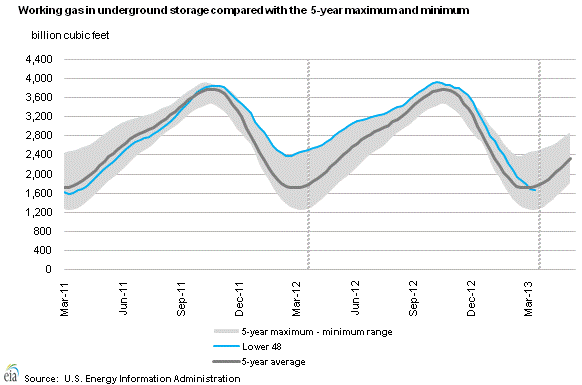 As of April 5, working gas in storage was 1,673 billion cubic feet, according to Energy Information Administration estimates. This represents a net decline of 14 Bcf from the previous week. Stocks were 804 Bcf less than last year at this time and 66 Bcf below the 5-year average of 1,739 Bcf.
Natural gas prices responded to the news quickly, with gas for May delivery climbing 1.2 percent to $4.13 per million BTU. The EIA points out that March is the beginning of the spring shoulder season — the few delightful months of temperate weather between winter cold and summer hot — for much of the country. During this time demand usually decreases, and for March 2013 fell 16 percent on the year. The lower volume of consumption is expected to be maintained for the remainder of the season, with a corresponding increase in reserves (as evidenced by the graph above).
The EIA also reported on Thursday that year-to-date natural gas use for electric power generation is down compared to 2012. The EIA commented: "With the recent rise in natural gas prices, the cost of dispatching existing coal plants in the eastern United States using coal purchased at the benchmark Central and Northern Appalachian Basins (CAPP and NAPP) spot prices has become more competitive relative to natural gas."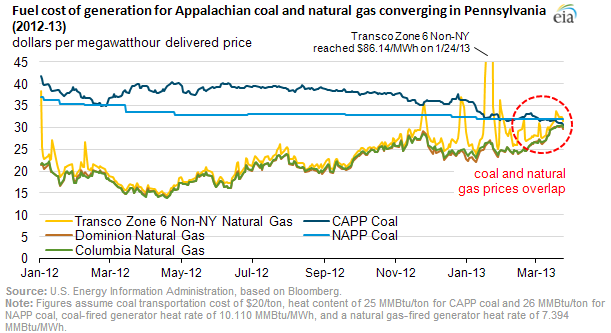 Don't Miss: Cyprus Sells Gold to Help Fund Bailout.