Can Ford's Escort Resurrect as a Best Seller in China?
At the Shanghai Auto Show, Ford (NYSE:F) unveiled the Escort concept. This is part of Ford's attempt to tap into China's increasing demand for compact cars. The company demonstrated three similarly sized cars from which consumers can select.
It is not surprising that Ford is trying to get into this market because China's is the largest in the world. Additionally in the compact car segment alone, 5.5 million cars are sold every year. That number is expected to increase to 7.2 million by 2017, according to the head of global product development.
According to the Detroit Free Press, there are three distinct markets within the compact car segment because of the country's growing middle class. The Ford Focus, which is built in Chongqing, is the "C-high" option. It appeals to the more affluent buyers in the country, many who live in the large cities on the eastern and southern coasts.
The "C-low" category of buyers includes many lower priced vehicles from both domestic and foreign brands. It also includes models of compact cars that are no longer sold in more mature markets. The "C-mid" is a growing category that are well suited to families living in tier 2 cities in China, which tend to be cities that have between one and five million people…
Ford's Escort would fit into the "C-mid" category, which is also what the Ford Legacy, an older model that came before the European Focus would be classified as. The new Escort actual traces back to a small European car that was sold between 1968 and 2003. It was also Ford's best-selling car between 1981 and 2003 in the U.S.
The concept that Ford unveiled at the Shanghai conference looked kind of like the Fusion and the Focus, but it is a bit more of a conservative design. Some other interesting touches have been added to the new model as well. For instance, the Escort has headlights that look like a figure eight, and eight is a lucky number in China. The new design is supposed to be very stylish.
In light of expanding into China's market, Ford has invested a lot in infrastructure. For instance, since 2006, they have invested $4.9 billion in China and have built five plants there. Ford is hoping that they will get the chance to tap into the growing middle class market with these new designs.
Here's how Ford has traded in 2013: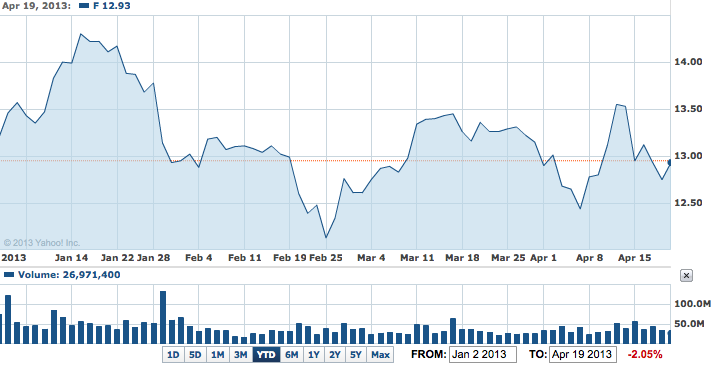 Don't Miss: Will Ford's Mustang Be America's Darling Once Again?