Can Fuel Cell Vehicles Topple Battery Electric Cars?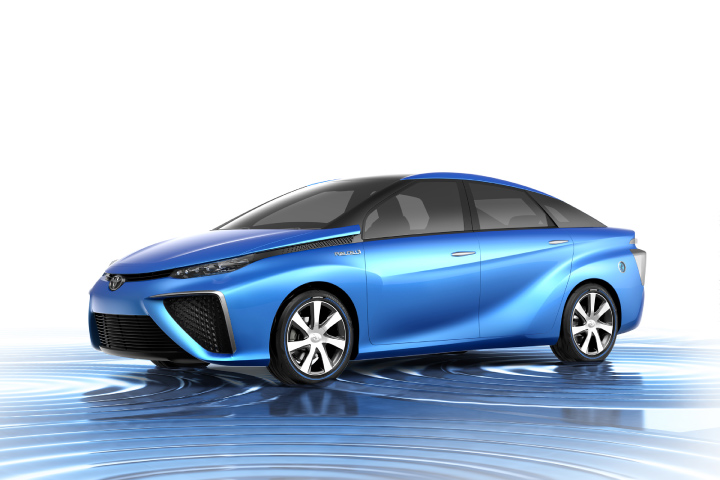 The showdown between battery-powered electric vehicles and hydrogen fuel cell electric cars has officially begun. Toyota (NYSE:TM) is set to showcase its fuel cell vehicle at the Toyota Motor Show while Honda (NYSE:HMC) is bringing its own FCEV concept to L.A.'s Auto Show, both of which begin November 22. As the world's top automakers choose sides, it's possible to see a path for fuel cells to topple lithium-ion battery technology in the future.
The debut of the fuel cell vehicle
There are simultaneous world debuts of fuel cell cars for Honda in L.A. and Toyota in Tokyo. Honda's fuel-cell electric vehicle, or FCEV, will grab the industry's attention in L.A. in what Honda says is a preview of an automobile that will appear by 2015. Curiously, that same date is what Toyota has in mind for its FCV, also a hydrogen fuel cell car operating with an electric motor.
Toyota currently has the best selling battery electric vehicle on the market in the Prius line, which is the overall sales leader in California. It's not insignificant to note that California is the largest auto market in the U.S. By signaling it has more than a casual interest in fuel cell cars, Toyota is acknowledging both the viability of the technoology and its own role in advancing fuel cell vehicles to market.
The fuel concept is a marriage between internal combustion engine vehicles powered by gasoline and electric vehicles propelled by large packs of lithium-ion batteries, the most famous of which is Tesla's (NASDAQ:TSLA) Model S. Instead of taking the time to charge batteries, drivers can fill up hydrogen tanks and head back on the road, which greatly expands the range of fuel cell cars.
Unlike combustion vehicles, the hydrogen tanks generate electricity and produce water as the vehicle's only emission. Proponents see the savings in time and superior range as huge advantages over lithium-ion batteries as a power source for EVs.
Elon Musk: Fuel cell cars are "bullsh*t"
While companies such as Toyota are bullish on the potential for fuel cells, there is plenty of pushback from the world of battery-powered electric vehicle manufacturers. Tesla CEO Elon Musk famously referred to them using the word "bullsh*t" during an October appearance in Germany. Musk sees inherent danger in putting hydrogen vehicles on the road.
However, Toyota has been hard at work proving the opposite. According to a report in the L.A. Times, Toyota engineers fired rifles at hydrogen tanks to see if they would explode. No explosions occurred. As reports of fires in the Tesla Model S continue to circulate in the media, proof of this nature looms large. Numerous automaker giants are putting their eggs in the fuel cell vehicle basket.

Mercedes, Detroit follow the Japanese
General Motors (NYSE:GM) has made no secret of its intention to tap into the burgeoning electric vehicle market, but there has been no indication that it is betting exclusively on lithium-ion batteries. In fact, GM filed the most fuel cell patents between 2002 and 2012 and is developing a project with Honda.
Ford (NYSE:F) has teamed up with both Daimler AG (DDAIF.PK), parent of Mercedes Benz, and Nissan (NSANY.PK) in a fuel cell project slated for completion in 2017. Nissan continues to lead with the Leaf — the bestselling electric car on the market — which will get a style upgrade at the Tokyo Motor Show and join several other daring vehicles from the Japanese automaker. For Mercedes, heading in the direction of fuel cells is also a challenge to BMW (BMAXY.PK), which has bet big on lithium-ion batteries in its all-electric i3.
The superior range of fuel cell vehicles powered by hydrogen solves one of the biggest dilemmas for electric vehicle makers. The race to production will begin following these auto show debuts, and up for grabs is a chunk of the industry's future.
Don't Miss: 10 Exceptionally Lavish Car Options.