Can General Motors Re-Take the Title of Top Global Automaker?
With shares of General Motors Company (NYSE:GM) trading around $30.44, is GM an OUTPERFORM, a WAIT AND SEE, or a STAY AWAY? Let's analyze the stock with the relevant sections of our CHEAT SHEET investing framework:
C = Catalyst for the Stock's Movement
Probably the single-most significant catalyst that moved GM's stock price in 2012 happened right at the end of the year. On December 19, the U.S. Treasury announced its plan to sell 200 million of the shares it owns in the company at $27.50 a pop. As you'll see when we look at the technicals section on the next page, this caused a frenzy of trading activity and the stock climbed tremendously.
Sweetening the deal, the Treasury also announced its intent to entirely exit its position in the company in the next 12 to 15 months, subject to market conditions. That sounds like code for "assuming the stock is attractively priced," and given the fact that it is now trading at a premium to the government's previous sale, it seems likely that Uncle Sam will walk away from its bailout feeling good.
Start 2013 better than ever by saving time and making money with your Limited Time Offer for our highly-acclaimed Stock Picker Newsletter. Get our fresh Feature Stock Pick now!
GM will announce its fourth-quarter 2012 earnings on February 14. Before that, investors should be able to get a peek at the company's January sales figures, which are expected to be strong.
E = Equity-to-Debt Ratio is Close to Zero

At a glance, GM's debt-to-equity ratio of 0.40 looks pretty attractive when compared to its major competitors. Toyota, having borrowed a lot of money to help it recover after the Tsunami in 2011, clocks in at a relatively unattractive 1.09. Meanwhile, Ford logs a seemingly preposterous debt-to-equity ratio of 5.34.
GM's low ratio is backed by $31.92 billion in cash with $16.65 billion in total debt. Toyota has an enormous war chest of $38.94 billion that comes loaded with $148.99 billion in debt, while Ford has $24.10 billion in cash and $100.97 billion in debt.
GM's low debt-to-equity ratio and large cash reserve is obviously a positive for the company, particularly as a source of funding to prop up its currently loss-making Opel unit in Europe. It's worth pointing out that Ford has investment-grade debt, and there's more than meets the eye to that ugly ratio. But that's not within the scope of this report.
T = Technicals on the Stock Chart are Strong

As of January 10, GM's stock price was 10.55 percent above its 20-day simple moving average, or SMA; 16.99 percent above its 50-day SMA; and 31.14 percent above its 200-day SMA.
Since the beginning of 2013 the stock price has been in an upward trend. Shares have come up 5.58 percent this year to date, and an incredible 33.27 percent year-over-year. As a benchmark, the S&P 500 has climbed 3.22 percent year to date, and 13.93 percent year over year.
As you can see, the stock was flirting with a slowly-rising price ceiling between September and December until it took off for fresh 52-week highs. This ascent may look dangerously steep, but there are a good catalysts (as we have seen) and positive trends (as we will see) behind it.
If you're wondering what that huge volume and price spike is, it's the December 19 announcement from the U.S. Treasury.
E = Earnings Are Currently Suspect

Keep in mind that GM's IPO was in November, 2010. If you want a history lesson, head to Wikipedia, but the moral of the story for interested investors is that after exiting the crisis, GM posted 29.6 percent revenue growth in 2010, and 10.8 percent growth in 2011. Earnings were also positive for both years, growing 57.36 percent to $4.55 per share in 2011.
On a quarterly basis, revenues have clearly bled out a bit. GM has posted three consecutive quarters of revenue drops of less than 1 percent, following 3.5 percent growth in the fourth quarter of 2011.
| | | | | | |
| --- | --- | --- | --- | --- | --- |
| Quarter | Sep. 30, 2011 | Dec. 31, 2011 | Mar. 31, 2012 | Jun. 30, 2012 | Sep. 30, 2012 |
| Revenue ($) in millions | 36,720 | 37,990 | 37,760 | 37,610 | 37,580 |
| Diluted EPS ($) | 1.03 | 0.24 | 0.60 | 0.90 | 0.89 |
Earnings also look a little shaky, with an unattractive dip in the fourth-quarter of 2011 and no growth in the third quarter of 2012.
E = Excellent Relative Performance to Peers
Many investors favor return on equity as a key metric to diagnose how well a stock is performing. (Who doesn't want to know the return on their ownership interest?) GM has an ROE of 13.53 percent, which is an attractive figure compared against Toyota, which has an ROE of 7.23 percent. However, Ford is currently dressed to impressed, boasting a 142.46 percent ROE. (As is often the case with Ford, there is more here than meets the eye.)
Operating margins are also critical to evaluating a company's performance, and by extension its stock's performance. Unfortunately, on this metric GM comes in at the bottom of the pile, earning just 3.26 percent on its sales. This compares to Toyota with an operating margin of 5.04 percent, and Ford at 4.85 percent.
T = Trends Support the Industry in which the Company Operates
"GMC closed the 2012 calendar year with 413,881 total sales for a year-over-year gain of 4 percent. With retail sales up 2 percent, the brand recorded its third consecutive year of sales growth and its highest sales in five years," the company reported on January 3.
Total 2012 car sales in the U.S. across all manufacturers came in at about 14.5 million, a 13 percent gain over 2011 and the highest volume seen since the financial crisis. Analysts at TrueCar.com and elsewhere are expecting the rate for 2013 to climb 7 percent to 15.5 million units, in line with the December annual sales rate of 15.4 million.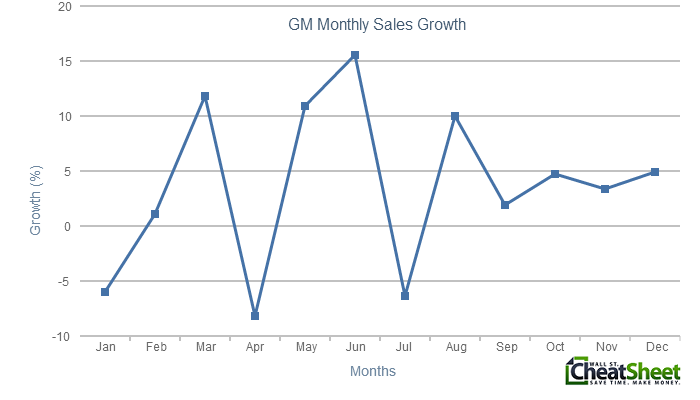 Automakers are particularly susceptible to the vagaries of the macro-economy, and you don't need to be reminded that fiscal kite flying has become a popular pass time given the global economic headwinds. For the auto industry, the negative impact of systemic and near-total financial collapse of not just multinational corporations but nations themselves is hardest felt in Europe, where GM is expected to log losses up to $1.8 billion for 2012.
But hope remains. GM and other major car manufacturers are looking for a return to profitability in the region by the middle of the decade, and while the losses are unwelcome they are acceptable. GM refuses to sell its loss-making Opel unit, looking ahead to better days and stronger sales in Europe.
Across the Pacific, GM has invested millions in developing a Chinese manufacturing and R&D base, and has been rewarded with tremendous sales in the region this year. China has become the world's largest car market and GM is poised to capitalize on every iota of growth the country has to offer. This is especially true given that its top global competitor, Toyota, recently suffered a massive politically-based set back in the region, from which it is still recovering.
Conclusion
For the dividend hunters out there — you're out of luck. GM doesn't currently grace its shareholders with a quarterly cash reward. For certain investors, this is definitely a sore spot — especially since Ford doubled its dividend on January 10.
But GM has a lot of momentum behind it, and only stands to benefit on positive trends indicating a global economic recovery. Not only is the company positioned for success in the United States, but it's in a leading position in China. Come the middle of the decade, thanks to its dedication to Opel, it will be ready to capitalize on a re-vitalized European market that has driven many of its competitors to its knees.
Because of this, and the metrics above, GM is a long-term OUTPERFORM.
Using a solid investing framework such as this can help improve your stock-picking skills. Don't waste another minute — click here and get our CHEAT SHEET stock picks now.