Can Halliburton Make Investors HAPPY Again?
Shares of Halliburton Co. (NYSE:HAL), one of the world's largest oil and gas services firms, were briefly halted yesterday. The company announced that increasing costs for a product used in drilling will impact second-quarter results.
The Houston-based driller said higher guar gum prices, which is one of the ingredients used in hydraulic fracturing, will cause its North American profit margins to shrink by an additional 300 basis points. In April, Halliburton predicted a rise in guar gum prices would only cause a 200-250 basis point contraction. In total, the company now expects higher prices to impact margins by 500-550 basis points, compared to the same period last year. Guar gum is most commonly used in the food industry as a thickener and to increase shelf life, but it is also a blending additive in fracking and has been in high demand in the Mid-Atlantic and Midwest region.
Don't Miss: INTRODUCING The iPhone 5
Despite equities across the board logging their best one-day gain of the year, Halliburton shares closed 3.5 percent lower on Wednesday. Other companies in the drilling industry such as Baker Hughes Inc. (NYSE:BHI) also closed in the red, while Schlumberger Limited (NYSE:SLB), Weatherford International (NYSE:WFT) and Exxon Mobil Corp. (NYSE:XOM) all climbed higher. As the chart below shows, it has been a slippery slope for Halliburton since hitting all-time highs above $57 last July. Year-to-date, shares are down more than 18 percent and may not find support until the $20-$25 range.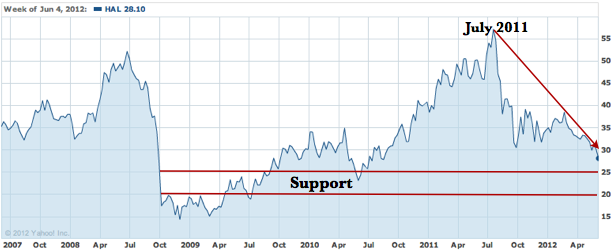 Halliburton's current technical situation does not bode well for the T= 'Technicals on the Stock Chart are Strong' in our CHEAT SHEET investing framework. However, the company may strengthen in the longer-term if they can successfully improve margins.
Halliburton is currently looking for guar gum alternatives so it can reduce its dependance on the additive and lessen the impact on future earnings. In a statement released on Wednesday, the company explained, "Though the company believes these increased costs are transitory once new supplies are available in early 2013, the company is seeking to mitigate these costs in the second half of the year through seeking relief from customers and increased usage of synthetic and other guar alternatives." India accounts for more than 70 percent of the global production of guar, according to the Multi Commodity Exchange of India. However, record prices are expected to increase crops by as much as 50 percent next year.
On Thursday, RBC Capital reduced its price target on Halliburton to $42 from $46, but still maintained its Outperform rating on the stock. The firm also expects the increased guar gum costs to be transitory. Furthermore, analysts at Goldman Sachs (NYSE:GS) initiated coverage on Halliburton with a Conviction Buy rating and a $55 price target. A Goldman analyst explained, "Through luck or shrewd planning, Halliburton has positioned itself extremely well to benefit from the major trends in the oil and gas upstream business.," according to WND. On Wednesday, shares closed at $28.10 and fell to as low as $27.81 in Thursday morning trading.
Investor Insight: Are Facebook Shares Undervalued or Still Expensive?