Can Home Depot Improve Your Portfolio?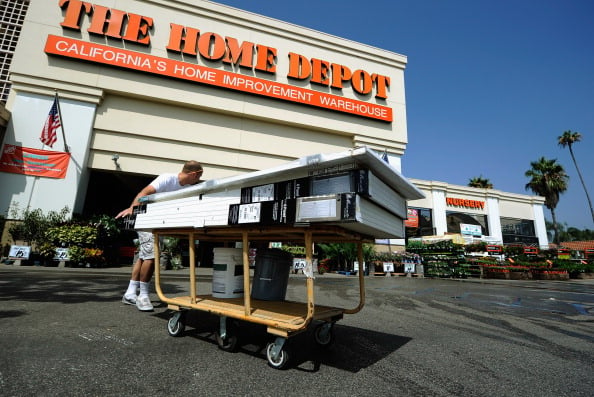 The Home Depot (NYSE:HD) is the world's largest home improvement retailer. At the end of the first-quarter, Home Depot operated a total of 2,263 retail stores in all 50 states, the District of Columbia, Puerto Rico, U.S. Virgin Islands, Guam, 10 Canadian provinces, and Mexico. The Company employs more than 300,000 associates. The stock has had a major run in the last two years, gaining 60 percent. However, in 2014 the stock has stalled. Part of this has to due with the struggling housing recovery. The company relies on new homeowners sprucing up their homes, as well as would be sellers prepping homes for sale. With stalled activity in the housing market, Home Depot sales naturally suffer. This was the case for Home Depot's first-quarter.
Home Depot had a decent quarter, with some notable weak points. First, it reported first-quarter net earnings of $1.4 billion, or $1.00 per diluted share, compared with net earnings of $1.2 billion, or $0.83 per diluted share in the same period of fiscal 2013. This was a strong positive year-over-year growth. In fact, for the first-quarter of fiscal 2014, diluted earnings per share increased 20.5 percent from the same period in the prior year. Total sales for the first-quarter were $19.7 billion, a 2.9 percent increase from the first-quarter of fiscal 2013. Comparable store sales for the first-quarter of fiscal 2014 were positive 2.6 percent, and comp sales for the U.S. stores were positive 3.3 percent.
However, these generally positive data points are offset by the fact that the Street was looking for even better earnings and so, technically, Home Depot missed earnings. Further, a sizable portion of income was related to some of its subsidiary holdings. Home Depot benefits from ownership of HD Supply Holdings Inc. In fact, the quarterly results reflect a benefit to earnings, net of tax, of $61 million, or $0.04 per diluted share, related to the sale of a portion of the company's equity ownership in HD Supply Holdings, Inc. Frank Blake, chair and CEO, had this to say:
The first-quarter was impacted by a slow start to the spring selling season. But we had solid results in non-weather impacted markets and expect our sales for the year to grow in line with the guidance we previously provided. I would like to thank our associates for their hard work and dedication.
Now, one of the better takeaways from the mediocre quarter was that Home Depot reaffirmed that it expects fiscal 2014 sales will be up approximately 4.8 percent from fiscal 2013. It also raised its fiscal 2014 diluted earnings-per-share guidance and now expects diluted earnings-per-share to be up approximately 17.6 percent to $4.42 for the year. This guidance includes the $0.04 per diluted share benefit related to the sale of HD Supply common stock, the benefit of Home Depot's share repurchases to date and Home Depot's intent to repurchase $3.75 billion in additional shares over the remainder of the year.
In summary, Home Depot was hit in their quarter by a slow start to the spring selling season. It was an especially long winter in the northeast and northern parts of the U.S. This led to the company missing estimates. However, sales were up year-over-year and earnings were up 20.5 percent. Coupled with the company raising its guidance for the year, Home Depot is a stock worth buying at current levels.
Disclosure: Christopher F. Davis hold no position in Home Depot and has no intention of initiating a position in the next 72 hours. He has a buy rating on the stock and an $87 price target.
More From Wall St. Cheat Sheet: