Can Hulu Team Up with TV Providers to Outplay Netflix?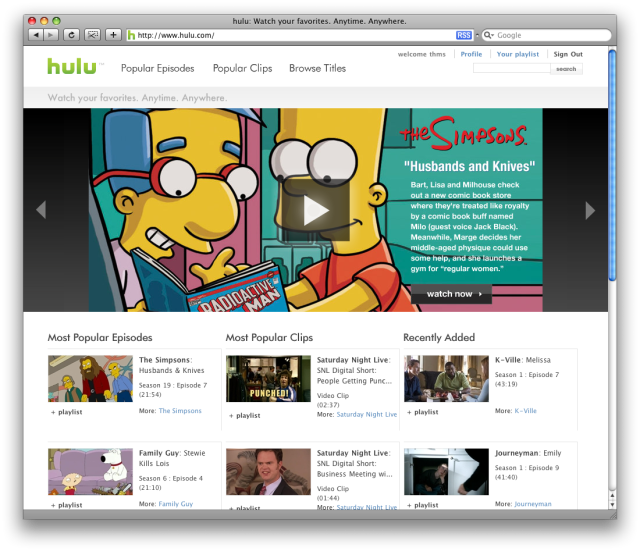 Walt Disney Co. (NYSE:DIS), 21st Century Fox (NASDAQ:FOX), and NBCUniversal's (NASDAQ:CMCSA) Hulu LLC, an online television streaming service, is looking to expand its scope, and with that end in mind, executives have been in preliminary discussions with a number of TV-providers, according to The Wall Street Journal. One possible plan is to tie Hulu subscriptions to TV provider's bundles or perhaps have Hulu be accessible through cable set-top boxes, sources close to the discussion told the newspaper.
Involved in these discussions are Time Warner Cable (NYSE:TWC), Cox Communications, AT&T (NYSE:T), and Verizon Communications (NYSE:VZ). Verizon is one of the companies that Hulu has talked with about the possibility of adding its services to the company's cable bundle.
While any official deals are still far into the future, this marks an appropriate step toward Hulu's goal of focusing on supporting pay TV. Unlike Netflix (NASDAQ:NFLX), which has drawn a lot of consumers online and away from scheduled broadcast programming, Hulu is taking a different approach toward television.
According to the Journal, the company hopes to compete better with Netflix by teaming up with pay-TV providers that are also looking for a fight with Netflix, some of which are considering whether Hulu might be an aid. That said, this move by Hulu is coming after a recent failure by its trio of owners to sell the company at auction — despite some interest from TV providers — and after an exodus of a number of its executives: CEO Jason Kilar, Chief Technology Officer Richard Tom, and Jean-Paul Colaco, the head Hulu's advertising business.
The Journal reported that several cable executives were interested in investing in Hulu as a result of its costumer base and the relevant service it might open up for subscribers to TV companies. Hulu is also looking to gain access to more of the broadcast and cable channels out there in an attempt to tempt cable subscribers.
Don't Miss: 7 Big Movies 'Thor' Beat Out This Weekend.