Can Increasing Consumer Spending Be Sustained in 2014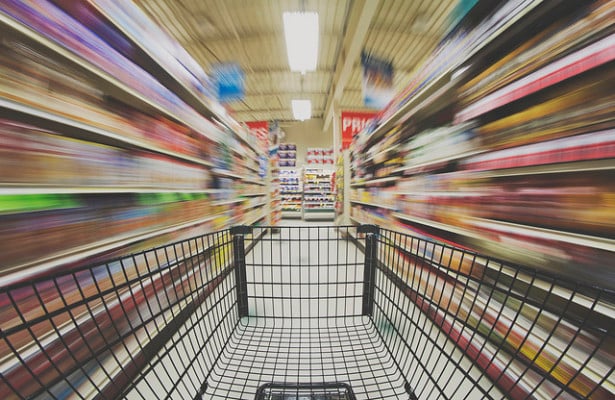 "Consumer spending remains strong going into 2014," TD Securities economist Gennadiy Goldberg told the Wall Street Journal earlier this month after the Department of Commerce released November's retail spending figures. Still, he expressed concern regarding the nation's slow income growth levels, noting that the current pace of spending will not last long without greater wage gains. "There's only so much spending that consumers can finance from savings," he added.
The government's numbers show that Americans increased spending in the month of November; the personal consumption metric, which reflects how much consumers spend on products like electronics and services like healthcare, rose 5 percent. That was the fastest rate since June, with gains largely driven by spending on big-ticket items. In fact, more than half of the increase was the result of automobiles sales, parts buying, and spending on services.
Plus, other data showed consumer sentiment soared to a five-month high in November. Together, the gains in retail sales last month and the rising consumer sentiment suggest that Americans have largely shrugged off their worries in political stability following October's partial shutdown of the federal government and January's increase in the payroll tax.
Increasing consumer spending, which accounts for nearly 70 percent of United States gross domestic product, higher rates of job creation, and a improving manufacturing sector have provided evidence that the U.S. economic recovery could accelerate in 2014. "There are signs of an earlier pickup in consumption that is also likely to be the heart and soul of a future growth acceleration," Alan Ruskin, head of currency strategy at Deutsche Bank Securities, told the New York Times after the month's numbers were released. Further, "it is difficult to get any sort of meaningful [economic] pickup without the consumer being a part of it." But anemic growth in income could limit or derail that pickup in consumption. The report showed that personal income grew just 0.2 percent in November, following October's 0.1 percent increase. Because of such tepid growth, consumers used their savings to sustain spending.
While a revitalized American consumer is responsible for higher consumer spending levels — in September, October, and November consumer spending rose faster than it has in any three-month period since the Great Recession — workers' incomes are not rising fast enough to keep up with the increases in spending. In the United States, the personal savings rate fell to just above 4 percent, according to the Commerce Department's November Report, and at that level, Americans are saving about as much as they did in the run-up to the financial crisis. Between 2005 and 2007, the annual rate averaged 3 percent, after rising as high as 11 percent during President Ronald Reagan's first presidential term.
It may be true that consumer confidence has been buoyed by greater job growth and the surging stock market, but those improvements have not reached all Americans. In November, the unemployment rate among workers between the ages of 16 and 19 remained above 20 percent, and for workers without a high school diploma, the jobless rate stood at 10.8 percent. Also, as ongoing proof that it will take the United States years to fill in the job gap left by the recession, the Labor Department's November numbers show that 10.9 million Americans who wanted and were looking for work could not find employment last month. As for the stock market, barely more than half of Americans own stock, personally or jointly with a spouse, as part of a mutual fund or a retirement account such as a 401K, which compares to 67 percent in 2007, a clear indication that the slow economic recovery has yet to reach many.
Yet, in the past few months, American consumers as group appear to be appraising the economy with new eyes, and the expanding gross domestic product reflects that reality. The most recent calculation of third-quarter gross domestic product showed that the economy expanded at a 4.1 percent annual rate, the fastest pace in almost two years. Propelling that growth was consumer spending, which increased 2 percent. That growth suggests that, even though the economic recovery has not yet reached all Americans, many consumers are feeling what economists describe as the "wealth effect," where they perceive their homes or portfolios are worth more, which gives them the confidence to spend more.
However, the pessimistic view exists as well; it could be that the increases in consumer spending is the result of pent-up demand, and in support of that theory is the fact retail sales in recent months have been driven by automobile purchases. In general, more Americans are driving older cars than ever before, meaning that many are replacing their vehicles out of need.
December's retail spending figures will not be released until next month, but reports compiled by the industry trade groups — the International Council of Shopping Centers and Johnson Redbook — provide an early look at the month's consumer spending, without the sales of automobiles clouding the story. While December is the capstone month of the all-important holiday shopping season, during which many retailers make as much as 40 percent of their annual sales, growth has been modest at best. Even though the same-store sales index produced by ICSC and Goldman Sachs picked up last week, the results for the entire month are flat with November's numbers. Similarly, Johnson Redbook's index showed the strongest gain since the Black Friday week, but December as a whole is soft compared to November.
In the week of December 14, ICSC-Goldman Sachs index showed that same-store sales jumped 4.8 percent from the previous week. But since then, that measure has been falling. Pulling back slightly from last week's 1.4 percent week-over-week increase, the ICSC-Goldman Sachs index rose just 1.0 percent in the week ended December 28. On a year-over-year basis, the index's growth continued to expand, posting a 3.0 percent gain compared to the previous week's 2.7 percent increase.
"Business was brisk in the final days ahead of Christmas and for the week as a whole," said ISCS chief economist Michael Niemira in the data release. Much of the week's sales gains were driven by the redemption of gift cards and last-minute promotions, which were higher this year than last year, meaning profits for retailers may be impacted.
As for Redbook, the index has been slowly gaining momentum over the month of December. The index has expanded 4.5 percent over the past 12 months, which compares with the previous week's 3.9 percent rate of growth. Furthermore, Redbook's monthly comparison also improved, contracting at a 0.7 percent rate following the previous week's 1.0 percent rate of contraction.
More From Wall St. Cheat Sheet:
Follow Meghan on Twitter @MFoley_WSCS