Can Lowe's Catch The Home Depot?
Despite the Dow (NYSE:DIA) falling more than 200 points on Monday, shares of Lowe's Companies Inc. (NYSE:LOW) are in the green due to new plans from the home improvement retailer.  The company announced that it is closing 20 store locations in the US, and will slash almost 2,000 jobs in an effort to improve earnings.  Lowe's closed 10 stores on Sunday, and will close the other 10 stores within a month.
As the chart below shows, shares of Lowe's have been underperforming its rival, The Home Depot (NYSE:HD) since mid-April.  Year-to-date, shares of The Home Depot are down about 1%, while Lowe's is down nearly 17%.
Investing Insights: Will Weak Bank Earnings Force Investors into Gold?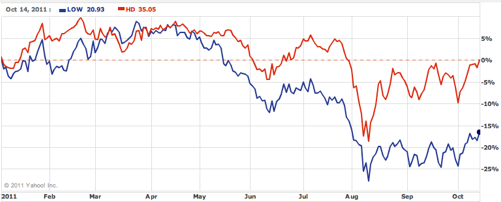 In August, Lowe's said its profit for fiscal 2011 would be less than it previously projected as sales dropped at stores open more than a year.  Earnings per share for the year through February 3 is expected to be $1.48-$1.54, down from a previous forecast of $1.56-$1.64.  Although the company expected a 2% increase in sales at stores opened for at least a year, the company saw sales declined by 0.3% in the second quarter.  Other retailers such as Wal-Mart (NYSE:WMT) have begun to make improvements as well in order to increase sales.  After a two year sales slump, Wal-Mart same store sales increased July through September.
Analysts seem to be pleased with the Lowe's announcement.  Goldman Sachs (NYSE:GS) maintains a Neutral rating on the stock, but raised its price target to $23.  Stifel Nicolaus & Co. analyst David Schick said, "The news is significant in theme, the stores in question are in the ex-urban locations hit worst by the implosion in housing markets from 2007 to 2010." Lowe's still has its work cut out for it as it tries to catch up to The Home Depot.  More cost reductions may be necessary as the unemployment and housing picture continues to remain weak and unresolved.
Don't Miss: Tim Cook Basks in the Sunlight of Success.