Can Mark Carney's Forward Guidance Withstand the U.K.'s Economic Recovery?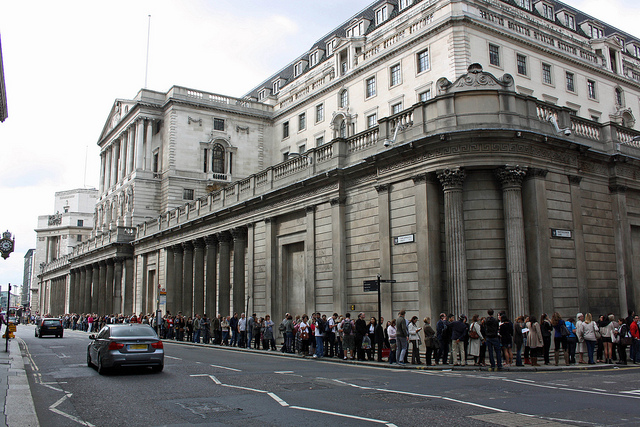 The United Kingdom is joining Germany in propelling the European Union forward though its EU membership could be uncertain going forward.
But for the time being, the U.K. is finding the necessary catalysts in order to grow. Chancellor of the Exchequer George Osborne's austerity seems to be freeing up the private sector as growth in several areas beat expectations for the second quarter.
Manufacturing continues to come back to life there, where estimates of growth have been revised upwards to 0.7 percent from previous estimates. Construction, a notably volatile business in the U.K., also packed a punch in delivering economic expansion: The sector grew at 1.4 percent rate last quarter. The service sector, which according to Businessweek has been contributing a great deal to the U.K.'s economy as of late, grew at 0.6 percent last quarter, in line with expectations.
Britain's mortgage assistance for new home buyers is driving property values up, causing some to speculate that a bubble is in the works, part of which has contributed to the construction boom. If this is indeed the case, the pressure is about to get amped up on Bank of England Governor Mark Carney to convince markets that he won't raise interest rates.
Assuaging markets hasn't proved to be the new Bank of England head's strong suit, as his forward guidance on interest rates has elicited more volatility and skepticism from British investors than confidence. Carney has said that interest rates will not rise until unemployment comes down to 7 percent from its current 7.8 percent.
However, he left himself several opt-out clauses in that guidance including inflation and financial crises. With increasingly positive economic data and the potential for a housing bubble to be in the works, markets are likely to put pressure on Carney and see if he sticks to his words of keeping rates at their current lows, The Guardian reports. If the property bubble turns out to be real, though, Carney and the U.K. government could both easily be chastised for the combination of low interest rates and creating artificial demand by way of the assistance program.
Despite the gloom and doom of that scenario, immediate economic data look promising for a nation that's trying to restore its economic prowess to pre-recession levels. The U.K. has a bit of the way left to go, with its total economic output still 3.2 percent smaller than what it was before the financial crisis.
Don't Miss: Are Higher Interest Rates Defeating New Home Sales?