Can Monsanto Break Resistance?
Monsanto (NYSE:MON), the world's largest seed company, reported fourth quarter results on Wednesday.  The company narrowed its quarterly loss to $112 million (loss 21 cents per share), compared to $143 million (loss 26 cents per share) in the same period last year. Monsanto has now beaten estimates consecutively for the last four quarters.
Shares sank to $58.89 on Monday, a new low for the year, but closed more than 5% higher on Wednesday due to the up beat results.  As the chart shows below, shares are now approaching their 50-day MA, a level that has acted as resistance for the past two months.  Will shares be able to breakthrough this time?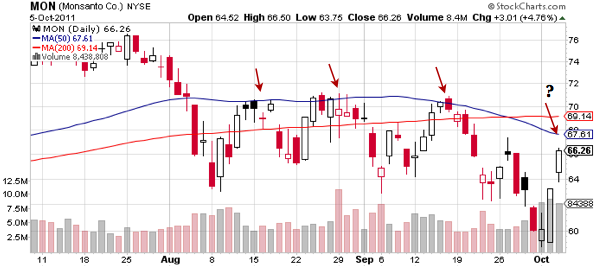 Revenue increased 21.2% to $3.59 billion in the third quarter, while Monsanto expects earnings to grow by around 15% for next year.  Competitors such as Syngenta (NYSE:SYT) and DuPont (NYSE:DD) also closed higher on the news.  Dow Chemical (NYSE:DOW), which also makes herbicides, surged more than 7% Wednesday.
Investing Insights: Are Gold and Silver at Bargain Prices Again?
Going forward, investors will need to not only consider resistance levels in Monsanto, but also past earnings.  There is an ongoing SEC investigation regarding Monsanto's incentive program used to promote the company's Roundup Herbicide. Due to this, Monsanto will be forced to restate earnings from Q4 2009 to Q3 2011.  For investors seeking detailed professional analysis on more corn (NYSE:CORN) related investments, we invite you to try our premium service free for 14 days.