Can New York City Embrace Wal-Mart?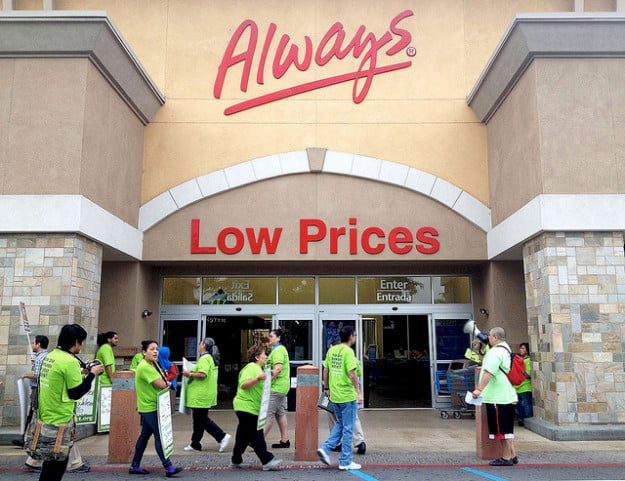 Wal-Mart's (NYSE:WMT) quest to establish a retail outlet in one of the five borough of New York City has been described in quixotic-like terms since its quest for a location in Brooklyn hit a wall last September. Still, the big-box retailer is forging ahead with plans to find a new location, according to prominent New York brokers, who told The Commercial Observer that the company is currently negotiating for a spot in the five boroughs.
The retailer's most recent bid failed in East New York after a coalition of labor unions, community defenders, and politicians, including Christine Quinn, launched an assault on the proposed new store. Furthermore, Wal-Mart's widely condemned employment practices and its perennial disagreements with labor unions had painted a negative picture of how one of its stores would change the neighborhood. The site that the company had its eye on — known as Gateway II — will now house a unionized ShopRite.
Since talks between the owner of the property — Related Companies — and Wal-Mart regarding a location in southeast Brooklyn fell apart last fall, the company appeared to retreat from its plans for New York. But that may not be the case; several brokers told the industry publication that Wal-Mart is shopping for property on the Queens-Brooklyn border. Faith Hope Consolo, chairman of Douglas Elliman's retail leasing and sales division, said that "an industrial building over there with vacant lots next to it" could be a possibility. Another industry source familiar with Wal-Mart's real estate aspirations said the company was in active negotiations for a "very substantial," approximately 300,000-square-foot site in the outer boroughs.
"They just want to be here," Consolo said, adding that Wal-Mart might try to work its way into New York City with smaller format stores. "They've done that with their express stores and locations near college towns." In 2010, the Associate Press reported that Wal-Mart was attempting to enter urban markets like New York, San Francisco, and Chicago, with stores as small as 20,000-square feet. A typical big-box store covers 150,000 square feet.
Of prospective store locations, Consolo noted that Wal-Mart will always have community problems, "which is so old hat" for the company. "There are a lot of stupid people here. New Yorkers should have access to products at good prices," she added. Walmart's senior director of communications, Steven Restivo made a similar assessment, writing in an email to The Commercial Observer that there was "nothing new regarding Walmart in NYC." He added, "Two things haven't changed: New Yorkers want us here, and residents continue to go out of their way to shop at our stores outside of the city." New Yorkers, he said, spent more than $215 million at Wal-Mart's locations in the area.
Restivo gave no specifics regarding Wal-Mart's future plans, but Consolo said the company is negotiating with developers, including Related Companies and Vornado Realty Trust (NYSE:VNO). "They're going back to the old well to try and sow new seeds," she said. "They have their eyes on New York and aren't blinking."
Follow Meghan on Twitter @MFoley_WSCS
Don't Miss: Are Americans Faulting Obama for the IRS Controversy?