Can Obamacare Help Detroit Save Money?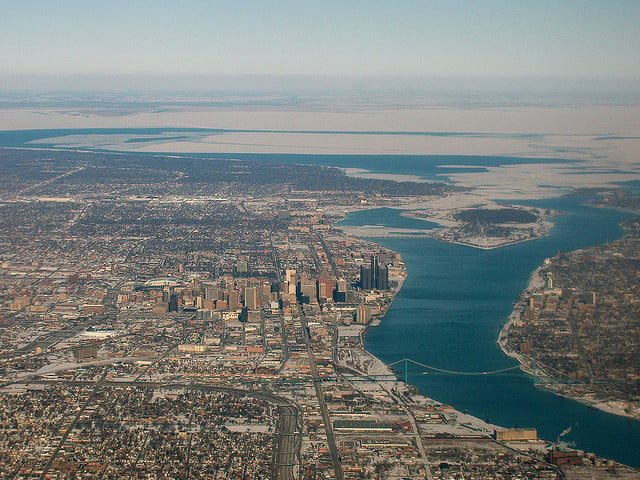 Detroit's record $18 billion bankruptcy has drawn the eyes of the nation. While many pundits, economists, and analysts have devoted themselves to the question of why the city went bankrupt — which, of course, is an important question to ask given the ramifications the answer could have for other American cities struggling with debt — the city is now asking what its next step should be.
One possible step, which could be an element of a restructuring package, is a controversial plan to reduce some of the $5.7 billion it owes in retiree health costs. Officials are considering forcing many of those retirees that are too young to qualify for Medicare out of city-run coverage, and into new insurance markets that are being set up under the auspices of the Affordable Care Act.
Outlined in a June 14 report authored by Emergency Manager Kevyn Orr, which was meant to show creditors that the city had a plan to stop its downward spiral, the city estimated that transitioning 19,389 retirees into the healthcare reform's marketplaces could save the city between $27.5 million and $40 million annually. However, the restructuring package must still be approved by a bankruptcy judge.
It is a plan that other municipal leaders — many of whom say they dealing with growing, unsustainable prices for the health care benefits promised to retired city workers — are examining closely.
As The New York Times reported on Sunday, cities like Chicago, Sheboygan, Wisconsin, and Stockton, California are planning or considering similar ideas. After all, while the Affordable Care Act mandates that employers of 50 or more full-time workers provide health insurance benefits to those working 30 or more hours per week, it says nothing about retirees.
That Obamacare will theoretically help Americans with modest incomes — like retirees — purchase private health coverage on the state-run or federally-facilitated exchanges by providing subsidies has given local governments a glimmer of hope. Unfunded retiree health costs are growing ever larger. A 2013 study conducted by the Pew Charitable Trust found that 61 of the largest U.S. cities are facing $126 billion in retiree health benefit costs, all but 6 percent of which is unfunded.
"The Affordable Care Act does change the possibilities here dramatically," Neil Bomberg, a program director at the National League of Cities, told the Times. "It offers a very high-quality, potentially very affordable way to get people into health care without the burden falling back onto the city and town."
Of course, if a large number of local governments choose to push retirees into the Obamacare exchanges, the federal government will be left with a hefty tab. Authors of the healthcare law did expect some retires to be shifted into the exchanges, Washington and Lee University law professor Timothy S. Jost told the publication. The problem is that an unprecedented number of enrollees qualifying for subsidies will greatly increase the cost of the program, and as Jost noted, those subsidies are "mandatory spending."
Under the Affordable Care Act, those Americans shopping for coverage on the exchanges and earn up to 400 percent of the poverty level, which is $45,960 for an individual and $62,040 for a two-member household, will be eligible for subsidies in the form of federal tax credits. Detroit's plan even proposed providing a moderate monthly stipend to retirees who purchase insurance through an exchange.
But, as it is for every American considering their insurance choices, the Times reported that retirees worry about what their costs will actually be, and whether their coverage will be as generous as the city plans provided.
For example, according to estimates provided by the Kaiser Family Foundation's Subsidy Calculator, a 60- year-old woman with an annual income of $40,000 would pay a premium of about $3,800 for a so-called "Silver" or mid-priced plan, a price that factors in a $4,391 subsidy. Then additional, out-of-pocket costs must be considered as well.
This type of preliminary calculation shows that even with subsidies, the insurance policies purchased through exchanges could be more expensive for retirees than public health sector health plans, Professor Jost told the Times. Most exchange customers are expected to buy plans that cover 60 percent to 70 percent of medical costs for the average person, the publication reported, while some city plans, like those in Detroit, cover between 80 percent to 100 percent.
However, any plan offered to insurance shoppers on the exchanges must include 10 categories of benefits, such as emergency services, hospitalization, and prescription drugs.
Follow Meghan on Twitter @MFoley_WSCS