Can Pandora and Sirius Maintain Their Niche?
Music continues to evolve as technology changes the world around us.  Since the early days of online music with Napster (NYSE:BBY), competition has only increased in the music industry.  Two publicly traded trend setters in the industry that have curved out a niche are Pandora (NYSE:P) and Sirius XM Radio (NASDAQ:SIRI), but will the niche last?
Pandora (NYSE:P) proclaims itself to be a new kind of radio station that plays only the music you like.  Listeners are able to customize music interests so that stations stream their favorite music to their computers or phones.  Unlike Sirius (NASDAQ:SIRI), Pandora relies heavily on mobile and online advertising for revenue. Pandora, which owns almost 4% of the radio market share in the U.S., received $176 million in advertising revenues last year.  However, a total of $17 billion was spent on radio advertising in 2010, so Pandora clearly has room to grow.
Don't Miss: Here's How to Avoid Sony and Find the Next Apple.
Sirius (NASDAQ:SIRI), which is a commercial-free music provider, relies heavily on satellite radio subscriptions.  The company now has over 21 million subscribers, and recent third quarter net new subscribers led to a record revenue of $763 million.  Sirius also received a credit rating upgrade from S&P to BB from BB-.  The company has struggled from high debt levels, but the rating agency cites that recent progress in the company should allow the debt to be sustainable.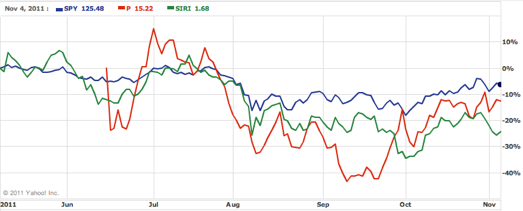 As the chart above shows, it has not been easy listening for shareholders.  Shares of Pandora are down 13% from its June debut, while Sirius is down about 25% in the past six months.
Going forward, investors will need to keep an ear on competitors such as Apple (NASDAQ:AAPL), Google (NASDAQ:GOOG), and Spotify.  Currently, Apple appears content with improving its already successful product line, as seen by the updated iPhone 4S.  The iPhone and iPod are practically international past times.  Due to licensing regulations, Pandora has not been able to tackle the international market.  Furthermore, Google is close to launching its socially integrated music store.  Mobiledia reports that users will be able to share songs with members of their Google+ groups, who will then be able to listen once for free before deciding whether or not they want to purchase.  Google's expansion of its cloud world will aim to close users off from services like Pandora.  The obstacle for Google is actually getting people to use Google+.  Currently, Google+ has 40 million users, while Facebook has about 800 million.
Sirius maintains its niche because they jumped on the car radio market years before Pandora started to build relationships with Ford (NYSE:F) or General Motors (NYSE:GM).  Sirius also has exclusive contracts with entertainers such as Howard Stern to help spark interest.  Spotify is a Swedish-founded music streaming service that includes major record labels such as Sony (NYSE:SNE) and Universal (NYSE:GE).  However, the lack of mobility in the service by not using a browser-base platform serves as a huge obstacle for its future.  In the end, it appears that Google and Spotify have their work cut out to make it on the digital playlist.
Investing Insights: Here's Why Groupon's Business Model Looks Eerily Like a Ponzi Scheme.