Can Pepsi's Hummus Trick Pull In New Buyers?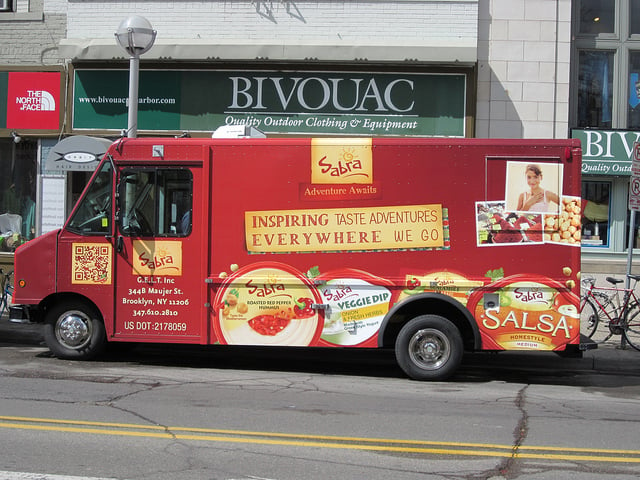 You won't find too many Americans fighting over the hummus dip at a Super Bowl party. But if Ronen Zohar, chief executive officer of PepsiCo Inc.'s (NYSE:PEP) Sabra Dipping Co. unit, has anything to say about it, that all could change soon.
Sabra is a joint venture between Pepsi and Israel's Strauss Group Ltd, and Pepsi is now not only the world's largest snack food maker but also a leading U.S. purveyor of hummus and other healthy dips.
Still, salsa sales are more than double those of flavored spreads like hummus, and Sabra has its work cut out for itself as the company attempts to crack the American snack food market with its Middle Eastern dip. One mention of the word "chickpea" could have its consumers flying out the door, and that's why Sabra is employing different tactics. Its newly approved U.S. television commercial is encouraging people to "dip life to the fullest," and features consumer dipping chips, veggies, and chicken wings into the garlicky concoction. Sabra will even be the National Football League's official dips sponsor — an honor that will garner it significant advertising time and support from the NFL's loyal fan base.
Americans are no doubt critical of what they pass through their lips as snack food, but as the trend to eat healthy amasses support, Sabra expects to see sales increase. Zohar maintains that the hardest and most crucial step of the hummus assimilation process is the first one: getting people to try it. He believes that the key to Sabra's success comes in three steps: "First, get people to dip it. Next, get them to spread it, like on toast. The final step: hummus as a side dish, the way it's eaten in the Middle East." Zohar remains confident that the ascension of these steps could end in hummus expanding into a $700 to $800 million industry.
So what exactly is hummus? Don't tell your picky eaters but the concoction is simply a combination of steamed chickpeas with a tahini paste that comes from shelled sesame seeds. Flavors range from Classic, to Chipotle, to Roasted Red Pepper, plus many more, and are mixed with different oils, juices, and garlic that allow the smooth-textured dip to appeal to any consumer's palate — just as long as they try it.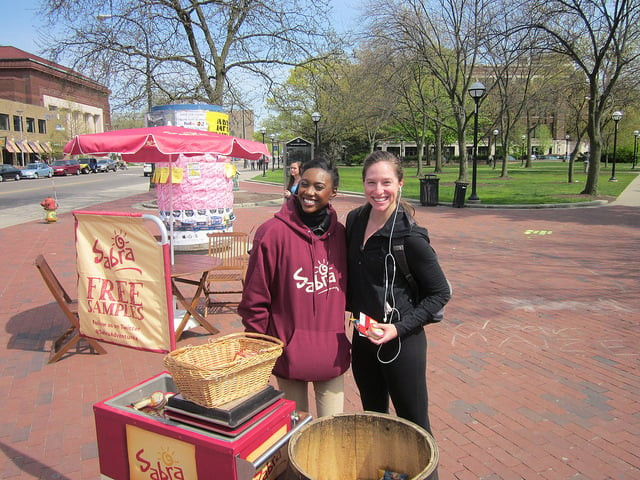 So far, the U.S. Northeast has already quickly jumped on the hummus train. But while the East is almost ready to advance to step #2 of Zohar's hummus sequence, the West is still stuck on task #1. The dip has only penetrated about 18 percent of households in the U.S. West; however, Sabra expects the dip to eventually garner the same popularity there as it has seen in the East.
If this Sabra hummus sounds familiar and you don't know why, it might be because you were once handed a sample packet as you braved the crowds on your way to work. Because the hummus maker knew that its success depended on American consumers giving the product a chance, it first broke into the market by handing out millions of samples a year from its famous red trucks. Americans love their free food, and the sampling strategy effectively took many consumers through step #1 of the hummus assimilation process. Sabra also now targets kids, as the hummus is offered in single-serving packs that are convenient for snacking and lunch options. Sabra can package its hummus with a serving of pretzels or other snacks and is a good alternative for school systems looking to avoid allergy concerns.
Now, according to Bloomberg, Sabra controls about 60 percent of the U.S. refrigerated flavored spreads market, an increase of 20 percent over the year. Its three biggest competitors – Tribe, Kraft Foods Group (NASDAQ:KRFT), and Cedar's Mediterranean Foods Inc. – aren't close to stealing Sabra's piece of the pie, but the company still needs to ensure Americans are really going for the dip. Zohar explains, "Most of the people in the U.S. never tasted hummus. You have to change their mindset that even if the name is strange and the brown color of the hummus is not as appetizing, it tastes wonderful."
And as grocery chains are hurrying into the trend, and more flavors are being stocked on the shelves, Sabra is making sure to maintain its lead on competitors. It says that it is in the process of doubling what it calls the world's largest hummus plant in Virginia, and is ensuring that the chickpea supply in the U.S. is consistent.