Can Peter Thiel Out-Innovate Big Tobacco?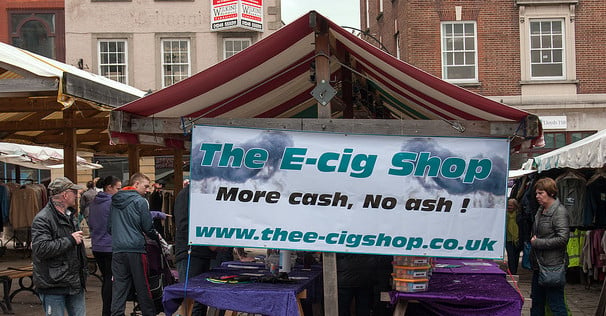 There's a lot to be said about Sean Parker and Peter Thiel. The two of them are among the best-known entrepreneurs and venture capitalists in Silicon Valley with a track record that includes companies like Napster, Facebook (NASDAQ:FB), and PayPal (NASDAQ:EBAY). By and large, the companies they have founded or backed have been successful, and it's hard to argue against their combined creative foresight.
Because of this, projects that one, the other, or both get involved in attract an outsized amount of attention, and e-cigarettes are the latest thing. The two are investing nearly $15 million in an Arizona-based company called NJOY, which markets e-cigarettes, and is the largest player in the space with 36 percent of the market.
The increasing popularity of e-cigarettes is hardly surprising. The harmful effects of tobacco use have been known for decades and the demographic of cigarette smokers has been slowly declining for years. The percent of U.S. adults who smoke in the U.S. has dropped fairly consistently since 1965, when the Center for Disease Control started collecting data. The rate in 2011 was 18.9 percent among adults, and 18.1 percent of high school students, and is projected to keep dropping slowly.
Major tobacco industry players like Reynolds America (NYSE:RAI) and Altria Group (NYSE:MO), faced with regulatory and market headwinds, have already made moves into the space. In April of last year, Lorillard (NYSE:LO) acquired an e-cigarette maker called Blu Ecigs for $135 million in what was the first major move by Big Tobacco into the space.
The e-cigarette industry is interesting for several reasons. For one, it's growing quickly. Reports suggest that the market will reach $1 billion this year, and will continue to grow at a rapid clip as it cannibalizes traditional tobacco cigarette sales. It's not reasonable to expect e-cigarettes to totally consume the existing tobacco market, but it does seem reasonable to expect that the new product will steal away tobacco customers.
Because of this, it's no surprise that Big Tobacco is taking steps into the space. On Tuesday, Altria Group announced that its subsidiary, Nu Mark, plans to enter the e-vapor category. The company will introduce a brand of e-cigarettes called MarkTen in Indiana in August.
At a glance, it looks like battle lines are being drawn between Big Tobacco and entrepreneurs like Thiel and Parker, and who will come out ahead is by no means clear. Brand loyalty and huge amounts of capital will go a long way in making Altria Group or Reynolds America successful participants in the space, but Thiel and Parker have a history of success as well.
If you're curious, here's an advertisement for NJOY:
Investing Insights: Is TiVo Undervalued?