Can Pfizer Beat Competitors to TB Cure?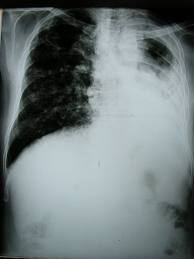 According to a World Health Organization report released Wednesday, the drug-resistant form tuberculosis goes undetected in many countries; only 19 percent of all drug-resistant cases are diagnosed worldwide.
This form of the disease has severely hampered global efforts to eradicate the disease.
But pharmaceutical companies have not let this potential market go untapped. Reuters reported on Wednesday that the U.S. government and South Korean researchers have found that an antibiotic used to treat severe bacterial infections could possibly treat a highly drug-resistant and deadly form of tuberculosis.
Catalysts are critical to discovering winning stocks. Check out our newest CHEAT SHEET stock picks now.
A study of Pfizer's (NYSE:PFE) antibiotic linezolid, led by the National Institute of Allergy and Infectious Diseases and Professor Sang-Nae Cho of Yonsei University in South Korea, showed the drug to be effective when it was added to patients' current treatments.
"The data that were reported are rather impressive," said the institute's director, Dr. Anthony Fauci, in a telephone interview with Reuters.
Currently, health providers depend on medicines developed half a century ago to treat the disease, which according to the 2012 Global Tuberculosis Report, is second only to HIV/AIDS in the number of deaths it causes. Tuberculosis is responsible for 8.7 million new cases each year, providing a huge potential market for pharmaceutical companies. According to Seeking Alpha the costs to diagnose and treat all tuberculosis cases between 2009 and 2015 has been estimated to reach $16.9 billion.
Dr. Mel Spigelman, president and chief executive of the TB Alliance, a nonprofit research group, told Reuters that additional drugs from the same group as Pfizer's linezolid are in earlier-stage development. Clinicians, said Spigelman, are currently forced to fight the disease "with an incomplete arsenal of inadequate weapons, and the fact that linezolid may be an addition to that arsenal is good news."
The WHO reported that 11 new or redeveloped tuberculous drugs are in clinical trials currently, including Johnson & Johnson's (NYSE:JNJ) drug TMC207.
In June, the Bill and Melinda Gates Foundation announced a partnership between seven pharmaceutical companies and four research institutions to collaborate on early-stage tuberculosis research. These companies, Abbott (NYSE:ABT), AstraZeneca (NYSE:AZN), Bayer (BAYRY.PK), Eli Lilly (NYSE:LLY), GlaxoSmithKline (NYSE:GSK), Merck (NYSE:MRK), and Sanofi (NYSE:SNY), will work to "speed the clinical development of new combination TB drug therapies."
Don't Miss: Here's How Arena Put Analysts On The Edge of Their Seats.