Can Small SUVs Excite America? Ford Thinks So
Just last week, we covered a story about Ford's (NYSE:F) plans to embrace the exploding global crossover and small SUV market by releasing a series of small, compact SUVs to (hopefully) bank on the world's newfound appetite for smaller vehicles with higher clearance. With gas prices climbing steadily overall, consumers are looking for vehicles that still offer some degree of utility, but with the efficiency returns of a smaller car.
Designed in Brazil and based on Ford's Fiesta platform, the Ford EcoSport is carrying the company's hopes on cashing in on the small crossover craze. While Ford has big plans for the Ecosport in developing markets like India and Brazil, executives are reportedly exploring the idea of bringing the EcoSport — or a similar vehicle — to the U.S. market, undercutting the immensely popular Escape as the smallest utility vehicle in the company's lineup.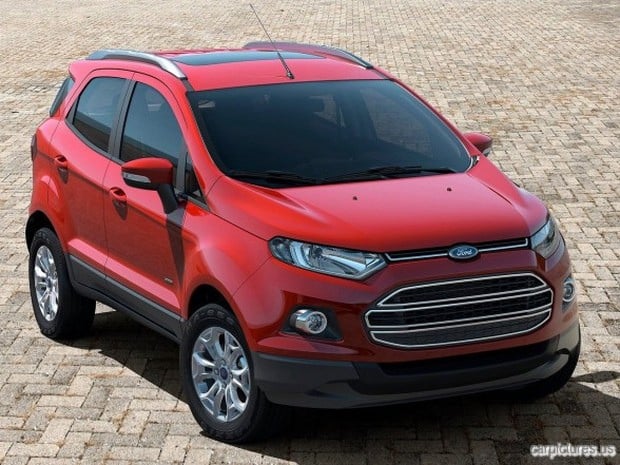 "We certainly have that ability. We're studying it very, very closely," said Jim Farley, global boss of sales, marketing, service, and Lincoln. He added that the growth of crossovers in global markets is one of the biggest trends Ford is watching. Sales have grown 35 percent since 2005, he said.
Ford has big plans for the EcoSport, as well as the medium-sized Edge SUV. Currently, the former is sold in 10 countries worldwide. By 2017, Ford is hoping to have that figure closer to 62. The Edge, currently sold in 16 countries, should be available in closer to 40, if the company can make good on its ambitious expansion plans.
The new compact SUV craze could also be an opportunity for Ford to expand its Lincoln brand, which has been undergoing a meticulous going-over in efforts to rejuvenate the name and make it better able to compete with the likes of General Motors' (NYSE:GM) Cadillac, Audi, Lexus (NYSE:TM), and other leading luxury brands. Having a smaller SUV platform to work from could give Lincoln the means to create a vehicle similar to Audi's Q3 (which is not yet available stateside), but also fill a niche that Lincoln's current MKT or MKX do not address.
A small crossover, although it would cause some inevitable cannibalization from sales of the Escape (or even the Fusion sedan), could also be a valuable tool to help the company meet the stringent CAFE standards that will force American manufacturers to have a fleet-average of 54.5 miles per gallon by 2020. As buyers shy away from full-size SUVs like the Expedition, vehicles like the EcoSport — or a car like it — become increasingly important as smaller cars become a bigger business.
Here's how shares of Ford and General Motors finished trading Monday:

Don't Miss: Elon Musk and Ben Bernanke: Separated at Birth?