Can the GOP Get Away With Defunding Obamacare?
Congress has an approval problem. According to the results of a Gallup survey publisher earlier in September, just 16 percent of Americans approve of the way Congress is handling its job. This is up from an approval rating of just 14 percent in August — a jump perhaps influenced by the dominance of Syria in the political conversation over the past few weeks — but still represents an enormous failure on the part of America's elected officials. A separate survey conducted by Gallup shows that just 42 percent of Americans trust the government's ability to handle domestic problems, an all-time low.
But if there's one thing that does seem able to inspire policymakers to action, it's the ire of their constituents. More than anything, members of Congress need to curry the favor of voters, and with approval ratings so low, elected officials have to do what they can to ensure re-election.
This seems to be what's at play in the upper echelons of the GOP. Earlier this week, Speaker of the House John Boehner (R-Ohio) bowed to pressure from conservative members of his caucus and agreed to tie the funding of the government — which is expected to exceed its spending limit on October 1 — to the defunding of the Affordable Care Act.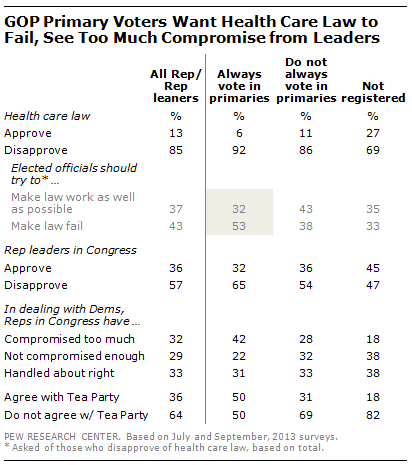 The Pew Research Center conducted a survey that reveals some of the details of the pressure Boehner and other Republicans are facing from their caucus.
A full 85 percent of Republicans and Republican-leaning independents disapprove of the president's health care law. Of these, 43 percent want their elected officials to make the law fail, while just 37 percent want officials to try to make the law work as well as possible. Significantly, among those who always vote in primaries, 53 percent want officials to make the law fail, while just 32 percent want officials to try to make it work.
What's more, 32 percent of Republicans and Republican-leaning independents believe that GOP leaders in Congress have compromised too much with Democrats. Once again, this position is most pronounced — 42 percent — among those who always vote in primaries.
So what does Boehner's budget strategy look like now?
According to Karl Rove, former deputy chief of staff to President George W. Bush, it's a mess.
"Today, independents look more like Republicans than Democrats, especially when it comes to health care," Rove wrote in a Wall Street Journal op-ed. Rove cites a survey conducted by Crossroads GPS that showed 60 percent of independents in swing-seat voting districts oppose the Affordable Care Act, putting them on the same side of the fence on this issue as most of the Republican Party. At a glance, this is a huge victory for the GOP.
But, of course, there's a catch. The GOP's current plan seems to be to draft and pass a short-term budget proposal in the Republican-controlled House that will finance all government operations through about December — except Obamacare. This proposal would then go to the Senate, currently controlled by Democrats, which is more than likely going to attach a health care funding measure and send it back.
From here, it's pretty much game over. The House seems unwilling to pass a budget bill that does not destroy Obamacare, while the Senate — let alone the president, who has veto power — is unlikely to pass anything that does destroy Obamacare. The result of an impasse would be a shutdown of the federal government.
"So what would the public reaction be to a shutdown?" asks Rove. He breaks down public opinion: "The GPS poll tested the key arguments put forward by advocates of defunding and Mr. Obama's response. Independents went with Mr. Obama's counterpunch 57% to 35%. Voters in Senate battleground states sided with him 59% to 33%. In lean-Republican congressional districts and in swing congressional districts, Mr. Obama won by 56% to 39% and 58% to 33%, respectively. On the other hand, independents support by 51% to 42% delaying ObamaCare's mandate that individuals buy coverage or pay a fine."
He concludes: "The defunding strategy doesn't. Going down that road would strengthen the president while alienating independents. It is an ill-conceived tactic, and Republicans should reject it."
However, on Friday the House did just the opposite. The measure is on its way to the Senate.
Here's how the major U.S. Indexes traded on Friday:

Don't Miss: Schumer: Yellen Would Be an Excellent Choice for Fed Chair.