Can the J.M. Smucker Company Sweeten Your Portfolio?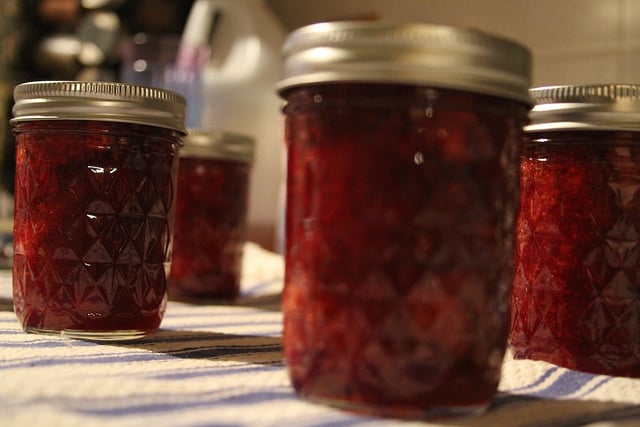 The J. M. Smucker Company (NYSE:SJM) sparked my interest after I saw that it has delivered a record earnings per share much to the appreciation of shareholders. It is a massive food company that owns more brands than you may think. The company operates through three segments: U.S. Retail Coffee; U.S. Retail Consumer Foods; and International, Foodservice, and Natural Foods.
It offers fruits, coffee, peanut butter, fruit spreads, shortening and oils, baking mixes and ready-to-spread frostings, canned milk, flour and baking ingredients, juices and beverages, frozen sandwiches, ready-to-eat waffles, toppings, syrups, jelly products, pickles and condiments, and fruit industrial products. The company provides its products under Folgers, Dunkin Donuts, Millstone, Café Bustelo, Café Pilon, Smucker's, Jif, Hungry Jack, Uncrustables, Dickinson's, Adams, Laura Scudder's, Goober, Magic Shell, Crisco, Pillsbury, Eagle Brand, Borden and Elsie design, Martha White, White Lily, Funfetti, Plate Scapers, Bick's, Five Roses, Robin Hood, Carnation, R. W. Knudsen Family, Santa Cruz Organic, Double Fruit, Recharge, Red River, Crosse & Blackwell, and Golden Temple brand names.
So how does it make its money? Well, it sells its products through direct sales and brokers to food retailers, food wholesalers, drug stores, club stores, mass merchandisers, discount and dollar stores, and military commissaries. It also targets retail channels, and health and natural foods stores and distributors, as well as through foodservice distributors and operators, such as restaurants, lodging, schools and universities, and health care operators. The company is really delivering and an analysis of its recent performance gives us an indication of where the company is heading.
At first glance it looked like the company had performed poorly. Fourth quarter net sales decreased 8 percent in 2014, compared to 2013, driven by pricing actions in the quarter. As expected, pricing actions in U.S. Retail Coffee in the quarter reflect decisions made to pass through lower costs realized earlier in the year. The impact of the exit of certain portions of the company's business in its International, Foodservice, and Natural Foods segment and unfavorable sales mix also contributed to the net sales decrease. A combined $22.4 million from the acquired Enray business and the Cumberland distribution agreement contributed to net sales in the fourth quarter of 2014.
Sales mix and foreign exchange were both unfavorable to net sales in the fourth quarter of 2014, compared to the fourth quarter of 2013, and reduced net sales by 2 percent and 1 percent, respectively. Volume gains were realized in Crisco oils, the company's flour brands, and Folgers coffee, and were partially offset by the impact of the previously announced business exits in the International, Foodservice, and Natural Foods segment and declines in Pillsbury baking mixes and frosting.
This led to operating decreasing 11 percent in the fourth quarter of 2014, compared to 2013, as a result of a decrease in gross profit which was somewhat offset by a decrease in marketing and corporate administrative expenses. Gross profit decreased $39.4 million, or 8 percent, in the fourth quarter of 2014, compared to 2013. The prior year's fourth quarter gross profit benefited from the recognition of lower manufacturing overhead. Overall commodity costs were lower, primarily for coffee, peanuts, flour, and oils, but were more than offset by lower net price realization, most significantly for retail and foodservice coffee, and resulted in the gross profit decline. Included as a component of lower net price realization was a $7 million trade accrual adjustment related to the company's foodservice hot beverage business.
Income excluding special project costs decreased 10 percent in the fourth quarter of 2014, compared to 2013, reflecting the decrease in operating income and the impact of a higher effective tax rate partially offset by the benefit of other income items and lower interest expense. Overall fourth quarter income per diluted share, excluding special project costs, decreased 6 percent in 2014, compared to 2013, yet benefited from the company's share repurchase activities over the past year, including 2.9 million shares repurchased during the fourth quarter.
CEO Richard Smucker stated, "Our 2014 record earnings per share achievement once again demonstrates that the principles that have guided our company for 117 years continue to deliver results regardless of the headwinds encountered. We delivered 5 percent non-GAAP earnings per share growth and returned over $730 million in cash to shareholders through dividends and share repurchases in 2014. These accomplishments are a product of our long-term, forward-looking growth strategy, the strength of our iconic brands, an aggressive innovation pipeline, and the commitment and perseverance of our team."
Vince Byrd, President and Chief Operating Officer also added, "We made progress in fiscal 2014 growing volume in our U.S. retail businesses, optimizing price points, enhancing merchandising, and investing in the future of our company. Our brand portfolio's celebration of the U.S. Olympic and Paralympic Teams was a success. We further optimized our supply chain, and in several areas, continued expansion of needed manufacturing capacity. We also introduced more than 100 new products, and are excited about the opportunities presented by the newly integrated Enray business. As we move into fiscal 2015, we know that there is more work to be done with our foodservice coffee business, but are encouraged by the strength of our brand plans and the momentum across the businesses."
I think the stock is a quality buy. The company continues to grow and expand. It needs to watch input costs closely, but it is a well-run company that also pays a 2.3 percent yield. For fiscal 2015, the company expects net sales to increase approximately 5 percent, compared to 2014. Non-GAAP income per diluted share is expected in the range of $5.95 to $6.05.
Disclosure: Christopher F. Davis holds no position in the J.M Smucker Company and has no plans to initiate a position in the next 72 hours. He has a buy rating on the stock and a $112 price target.
More From Wall St. Cheat Sheet: