Can These Guides Help Americans Navigate Obamacare?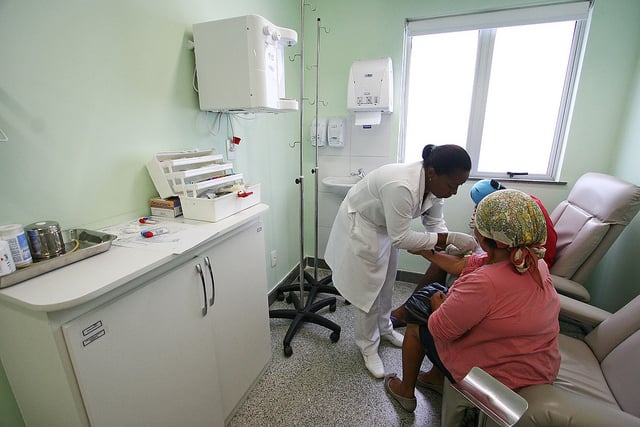 Many problems could derail the Affordable Care Act from successfully providing coverage to America's uninsured, who number 30 million. Maybe too few young, cheap-to-insure people will sign up; maybe the computer hub, which links much-needed data between government agencies to determine who is eligible federal subsidies and who qualifies for Medicaid might not work; or perhaps too few insurance companies will participate in the exchanges, keeping competition low and rates high. But right now, as the reform continues to move from the abstract political world of Washington, one of the largest problem standing in way of the implementation of Obamacare is understanding.
If Americans choose not to purchase insurance via the online marketplaces because they either do not have enough information to sign up for enrollment in the exchanges or believe that insurance coverage will be too expensive, insurance will become more expensive. To experts on the health care reform, this lack of understanding is seen as a major problem for the success of Obamacare's main objective: bringing affordable health care to the currently uninsured.
The health insurance coverage provided by the Affordable Care Act's individual exchanges needs a lot of healthy, cheap-to-insure people to sign up for coverage because their premiums will cover the big medical bills for the relatively small number of sick people. "So if the exchanges don't enroll enough young, healthy people, insurers will have to raise everyone's premiums. In the worst case, this could create what actuaries call a 'death spiral': Rising premiums prompt people to drop out, causing premiums to increase even more," wrote the New Republic's Jonathan Cohn in May. In other words, the exchanges need a broad, health risk pool to keep staggering rate increases from occurring — and keeping insurance premiums affordable matters immensely to the health care reform's success.
But if 44 percent of Americans continue to think that either the Affordable Care Act has been repealed by Congress or overturned by the Supreme Court, or say they do not know whether it remains law or not, fewer people will enroll when the exchanges open on October 1. If 51 percent of Americans continue to say they do not have enough information about the law to understand how it will impact them and their family, a percentage that has stayed fairly constant since the reform was signed into law in 2010, fewer people will enroll.
That is why the federal government has recruited more than 100 nonprofits and related organizations to navigate the 30 million Americans that are currently uninsured but who will be able to purchase coverage on the exchange. With the Obamacare marketplaces opening for enrollment in a matter of weeks, those organizations are facing a severe time crunch. Workers must be both hired and trained to be "instant experts who can explain the intricacies of health insurance to people who've never had it," reported the Associated Press. And, while they may be specialists in tasks as varied as the running of soup kitchens to the organizing of farm workers, many of these organizations likely have little experience in health insurance.
Helping the uninsured enroll in the exchanges and purchase coverage is implementation in high gear. It is at this stage that the implementation of the Affordable Care Act could turn into a train wreck as so many politicians have feared.
These new navigators — armed with training literature, 20 hours of instruction, and a laptop — will attend community events and visit food banks, shelters, churches, and free clinics to educate new insurance consumers. They will learn about the situation of a particular family or an individual, assess household income, and determine eligibility for Medicaid or federal tax credits, guiding enrollees through the complicated process.
If this system functions as federal officials intended, more than half of the nation's uninsured — a figure roughly equivalent to 15 percent of the population — will get coverage, according to the AP.
But here is the problem: if workers are not well-versed in the complex rules of Obamacare and cannot answer questions about the different policies and subsidies, the short preparation time for these workers could undermine the program. Even more concerning, the AP learned that many of the organizations involved have not hired any, or very little, of the workers authorized in their federal grants. For example, Tara McCollum Plese of Arizona Alliance for Community Health Centers told the publication that she had filled only one of the 45, $15-per-hour positions the federal government has allowed.
"It has to be enough time," Laura Goodhue, executive director of Florida CHAIN, a consumer health group involved in the training, told the AP. "We have to do what we have to do."
Follow Meghan on Twitter @MFoley_WSCS
Don't Miss: Here's How Obamacare Just Got Easier for Employers.