Can Toyota Steer Clear of This Wave of Lawsuits?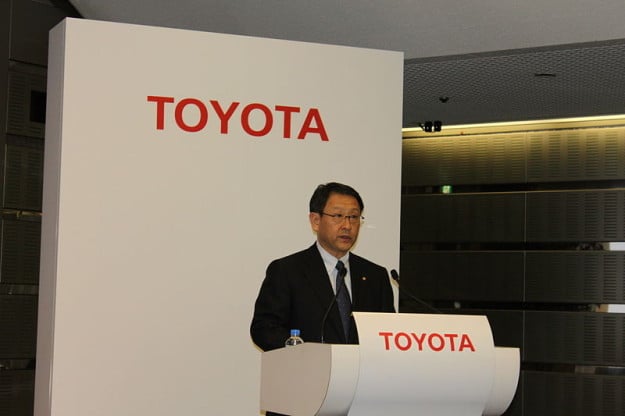 When Toyota Motor Corp. (NYSE:TM) grappled with an acceleration defect affecting millions of vehicles in 2009, the automaker faced its most troubling time in recent memory. Toyota continues to face lawsuits stemming from injuries and deaths related to its defective products, and following an important win in court, the company must brace for the next wave of litigation. Many millions of dollars are at stake.
Toyota did receive some positive news out of Los Angeles on Thursday. According to a report in the Los Angeles Times, a jury acquitted Toyota of responsibility in a fatal 2009 crash involving a Camry driver. Noriko Uno, a California resident, died after her foot stuck on the accelerator after being hit by another car. According to the Times report, Uno drove into a telephone phone and tree, dying in the crash.
The jury found that the driver who originally struck Uno was responsible, and she now must pay Uno's heirs $10 million in damages. This case was considered thin with respect to Toyota's liability because of the actions of the person who struck Uno. Lawyers taking the case against Toyota argued the vehicle had no brake override, which could have stopped the car, and that Toyota was therefore to blame. However, the jury did not make that connection.
Since brake override systems are not mandatory, Toyota was not responible. Future lawsuits against Toyota will not follow this premise, but will instead seek to demonstrate that electronic defects in Toyota vehicles led to the crashes. The Los Angeles Times reports that future lawsuits will also suggest Toyota failed in its responsibility to alert drivers of the dangers they faced in defective vehicles.
According to Reuters, a federal judge ruled early in October that Toyota must go to trial over claims that it was negligent in warning drivers about issues in its cars. The case will begin November 5, while hundreds of other legal battles are still pending. The first case to reach a trial by jury took place in New York in 2011, but Toyota won that decision, as well. One auto liability expert told the Los Angeles Times these two court wins could help Toyota significantly in its coming legal fights.
Toyota has settled many of the cases stemming from the unintended acceleration defect out of court. So far, its largest financial penalty was the $1.6 billion paid to owners in a class-action suit. In that case, owners were awarded the amount based on lost value in the vehicles, rather than personal injuries.
Don't Miss: 12 Trucks and SUVs in Line for Car of the Year.