Can U.S. Manufacturing Make a Second-Half Comeback?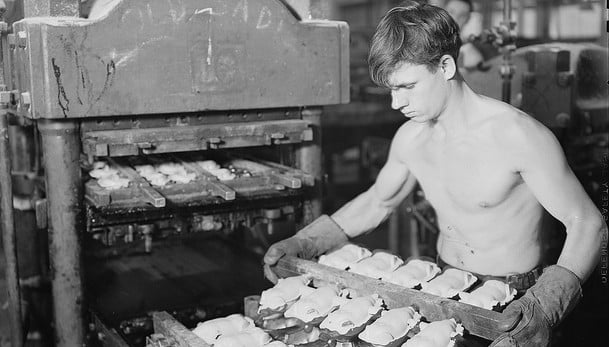 Manufacturing conditions in the United States improved in July, according to the Markit Flash U.S. Manufacturing PMI report. Markit's index of manufacturing conditions increased from 51.9 in June to a preliminary reading of 53.2 in July, signaling expansion of the sector at a faster rate. Significant components that experienced gains include output, new orders, and employment, which emerged from a June contraction.
Markit's report is a good way for market participants and observers to get an early sense of where the overall economy is headed. In general, the goods producing sector acts as a bellwether for the broader economy. With the exception of the July report, manufacturing data released over the past few months has been underwhelming, signalling modest, if any, growth.
July's report is encouraging, but as Chris Williamson, chief economist at Markit, said in a press release: "The pace of manufacturing growth nevertheless remains well below that seen at the start of the year, in part reflecting weaker demand from many export markets, notably China and other emerging economies. Employment growth is disappointingly weak as a result, as firm focus on cost-cutting to boost competitiveness."
Manufacturing labor market conditions have shown weakness throughout much of the post-crisis period. When the Federal Reserve Bank of Philadelphia released the June update to its Business Outlook Survey, its diffusion index of current activity increased from -5.2 to 12.5, its highest reading since April 2011. However, the employment index remained in negative territory at -5.4, its third consecutive month below zero, which indicates contraction. There were more firms reporting employment decreases (20 percent) than increases (15 percent).
At the beginning of July, the U.S. Census Bureau reported that total new orders for manufactured goods increased 2.1 percent on the month in May to $485.0 billion. This followed an upwardly revised increase of 1.3 percent in April from 1 percent and beat expectations for an increase of 2 percent.
The Census Bureau's manufacturing report is broken down into four primary segments: new orders, shipments, unfilled orders, and inventories. The new orders component is typically the headline citation and is arguably the best indicator of demand from the report. As mentioned, total new orders for manufactured goods increased 2.1 percent on the month. Broadly speaking, new orders are used as an indicator of incoming demand.
Factory orders are also broken down into durable and non-durable goods. Durable goods include things like primary metals, machinery, electronics, and transportation equipment; non-durable goods include things like food, beverage, tobacco, and chemical products, and apparel. New orders for durable goods increased 3.7 percent in May, while new orders for non-durable goods increased 0.7 percent.
Transportation equipment orders are often volatile and are sometimes stripped out of new orders data to get a more stable reading of demand for goods. Transportation orders climbed 10.9 percent on the month, and total new orders without the transportation component were up just 0.6 percent instead of 2.1 percent.
The shipments component of the report can be used as a proxy for current demand. Total shipments increased 1 percent to $483.6 billion, which follows a decline of 0.7 percent in April. By category, shipments of manufactured durable goods increased 1.3 percent, while shipments of non-durable goods increased 0.7 percent. Total unfilled orders — a measure of backlog — increased 0.8 percent. Total inventories increased 0.1 percent to $377.7 billion, the highest level since the series began publishing.
Markit also reported on Wednesday that Europe's manufacturing sector grew for the first time in nearly two years. Markit's Flash Eurozone PMI Composite Output Index increased from 48.7 in June to 50.4 in July, an 18-month high indicating overall output growth. The gain was led by manufacturing output at 52.3 from 49.8, while the general manufacturing index increased from 48.8 to 50.1. The services index remained in contraction territory at 49.6, although it also gained a few points between readings.
Don't Miss: Are Higher Interest Rates Hitting the Housing Market?