Can Verizon Clear This $30 Billion Hurdle?
As Verizon (NYSE:VZ) maneuvers to acquire Vodafone (NASDAQ:VOD), a large obstacle stands in the way. Sources from both sides are saying the two don't see eye-to-eye on the valuation of Vodafone — so much so that the companies stand $30 billion apart on a deal that's been in the works for several months.
The deal involves Verizon claiming the 45 percent of Verizon Wireless stock currently held by Vodafone. The purchase would give Verizon full control over its wireless business, while Vodafone's investors would see a substantial return on their end. Yet in a move described as favorable for both parties, Verizon's $100 billion bid is well short of the $130 billion Vodafone wants —  and analysts think it deserves. Part of the gap in valuation is in the company value (most set that number at $120 billion); the other comes from taxes Vodafone would owe (estimated at $10 billion).
It's easy to understand why Verizon wants full control of the wireless division. It remains one of the company's most profitable elements and would benefit from the stewardship of a single entity. yet the UK-based Vodafone isn't selling without a goal-line stand at the negotiating table. Sources tell Reuters that Verizon's legal team has an answer for the significant tax liability, yet the remaining $20 billion would still stand in the way.
The information leaked to the public about the negotiations is likely an attempt to draw the two parties together and get a deal done despite investor opposition. Analysts are publicly calling the offer "nowhere close" to the price Vodafone would take for its Verizon Wireless shares, putting the ball in Verizon's court as the negotiations carry on behind closed doors and in different media outlets.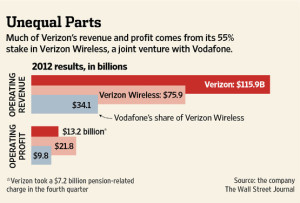 Much is up for grabs in the deal. According to a graphic from The Wall Street Journal, close to two-thirds of Verizon's $115.9 operating revenue comes from its wireless division. Nearly 30 percent of that revenue is represented by the Vodafone holdings. Such high stakes would suggest Vodafone will hold its ground in the coming days, despite pressure from Verizon to force the deal through. The $30 billion hurdle is too high to jump cleanly.
Don't Miss: David Einhorn's Vodafone Call is Getting Louder.