Can You Really Afford That Brand New Car?
While many consumers take a great deal of pleasure in buying a new vehicle, a new report shows that many households are stretching dollars more than they should. In fact, only one major city in the country can really afford the average price of a new car these days.
The typical price of a new vehicle reached $30,550 last year, but using a simple rule regarding median-income and affordability, Washington D.C. is the only place out of the nation's largest 25 cities that families could truly afford it, according to Interest.com's 2013 Car Affordability Study.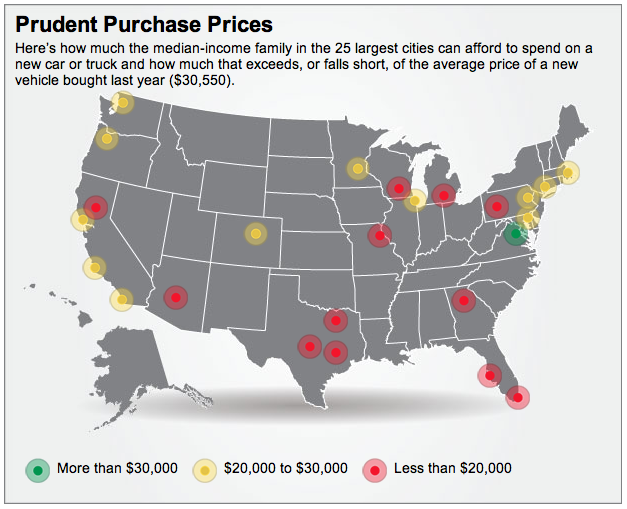 "What this research indicates, more than anything, is that a lot of Americans are spending too much money on their cars," says Mike Sante, managing editor of Interest.com. "Car costs are one of the most controllable parts of a household's budget. For example, if you live in New York City or San Francisco, you're probably going to have to pay a lot for housing, but you don't have to pay a lot for a car. You're better off driving something more affordable and saving or investing the difference."
There are many rules for how much drivers should spend on a vehicle, but the online consumer finance company used what is known as the 20/4/10 rule. This means that people should put down at least 20 percent, finance it for no longer than four years, and not let the total monthly vehicle expense (including principal, interest, and insurance) exceed 10 percent of gross income.
Using this rule, the affordable purchase price in Washington D.C. is $31,940, based on an annual median income of $86,680. The next highest cities are San Francisco and Boston with affordability prices of $26,786 and $26,025, respectively. On the opposite side of the road is Tampa, which only has an affordable purchase price of $14,516 for a new vehicle, a whopping 52.5 percent below the national average.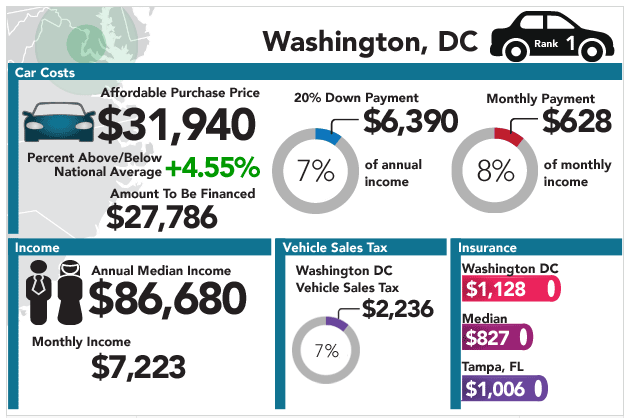 Although many Americans can't technically afford a new vehicle using the 20/4/10 rule, plenty are making purchases. According to TrueCar.com, sales of new cars in the U.S. are estimated to rise in February to 1.2 million, up 5.7 percent from a year earlier and a 17 percent surge from January. Major automakers such as Ford Motor (NYSE:F), General Motors (NYSE:GM), Toyota Motor (NYSE:TM), and Honda Motor (NYSE:HMC) are all expected to log month-over-month gains.
Investor Insight: Is The Younger Crowd Shunning Debt?