Canada Said to Have Blocked BlackBerry Takeover and 2 More Heavily Traded Stocks to Follow
BlackBerry Ltd. (NASDAQ:BBRY): Current price $6.65
A report by The Globe and Mail says that the government of Canada "outright rejected" Lenovo taking over the struggling BlackBerry. Ottawa officials "made it clear" that any offer from a Chinese firm would be rejected by the government due to national security concerns, which immediately put the kibosh on any potential deal that may have been considered. Further, it was reported that the government made its position known "over the last one to two months." Lenovo's interest in BlackBerry was made public in November, although the PC maker was only one of several rumored suitors.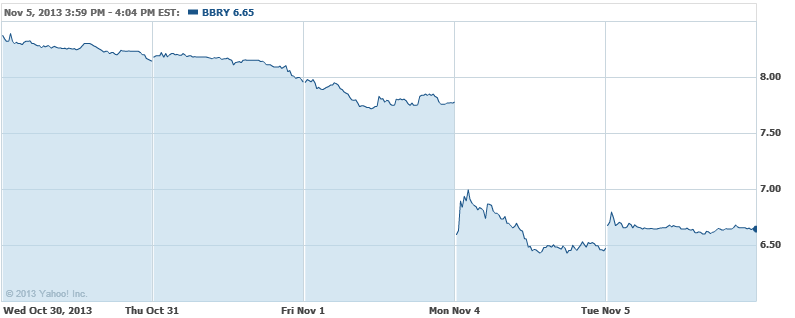 Delta Air Lines Inc. (NYSE:DAL): Current price $27.46
Delta is requesting a $5.9 million forgivable government loan in order to refurbish its call center in northern Minnesota, which was mostly built with government money to begin with. According to the application, the call center in Chisholm employs 418 people and the renovation would add 107 more. The loans are processed by a state agency named the Iron Range Resources & Rehabilitation Board. Commissioner Tony Sertich says that the new loan is expected to be forgivable, as well, so long as Delta meets job targets.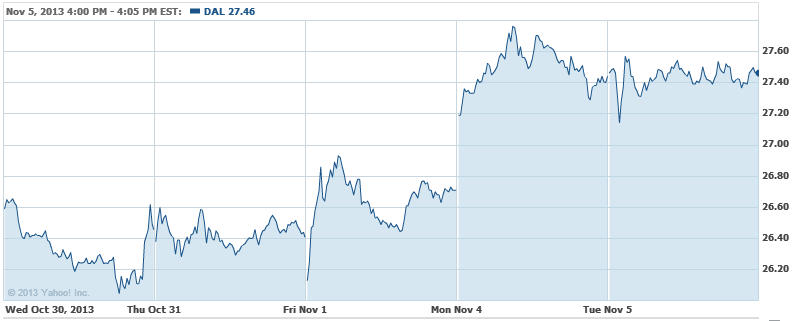 Ariad Pharmaceuticals Inc. (NASDAQ:ARIA): Current price $2.31
Cohen, Placitella & Roth PC is investigating allegations on behalf of investors who bought Ariad shares between December 11, 2011 and October 31, inclusive. The inquiry is about whether Ariad and certain of its officers and/or directors disseminated materially false and misleading information to investors in violation of Sections 10B and 20A of the Securities Exchange Act of 1934 and Rule 10b-5, promulgated thereunder. On October 9, Ariad revealed that Iclusig, its drug OK'd by the Food and Drug Administration in December 2012 as a last-line treatment for certain kinds of chronic myeloid leukemia, had indicated higher-than-expected rates of serious health problems connected with blood clots. On October 18, Ariad announced it would terminate a trial of the drug in newly diagnosed patients because arterial thrombotic events were observed in patients taking Iclusig. On October 31, at the FDA's request, the firm suspended sales of the drug.

Don't Miss: Will BlackBerry's Stock Make Progress?