Canadian Pacific Settles Litigation With Canadian National and 3 Hot Stocks Demanding Attention
McDonald's (NYSE:MCD): Current Price $94.79
Come March and Lent, McDonald's (NYSE:MCD) will offer a brand-new Happy Meal called Fish McBites comprising seven pieces of Fish McBites, french fries, apple slices and a drink. The first new Happy Meal in a decade, it marks an effort by McDonald's to refresh its menu and to counter competition after internal research revealed that mothers would like more seafood items to be offered. The new meal also derives inspiration from Chicken McBites, a popular limited time offer last year.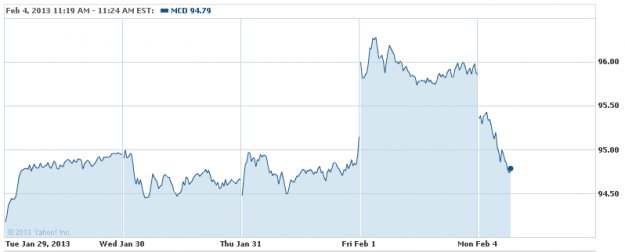 Canadian Pacific Railway (NYSE:CP): Current Price $114.93
Canadian Pacific Railway (NYSE:CP) and Canadian National Railway (NYSE:CNI) have settled their outstanding litigation after the latter's Executive Vice President and Chief Operating Officer, Keith Creel, announced his appointment as President and Chief Operating Officer at Canadian Pacific. Though most details of the settlement have been kept confidential, Canadian Pacific has agreed not to poach certain CN employees until December 31, 2016. CNI CEO Claude Mongeau said, "We wish Keith success in his new role and are pleased to turn the page with respect to the matter of CP's hiring of CN's former CEO, Hunter Harrison. The settlement arrived at today will allow CN and CP to focus on their respective agendas and create value for their customers and shareholders."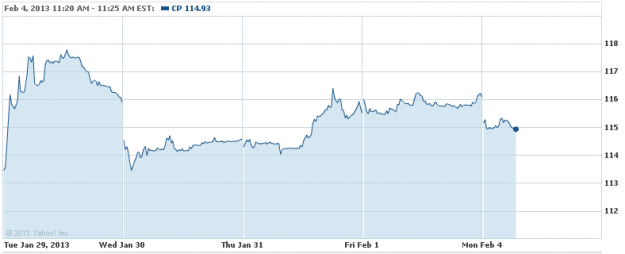 Wynn Resorts Ltd (NASDAQ:WYNN): Current Price $126.05
Wynn Resorts Ltd (NASDAQ:WYNN) wins a few rounds in its battle with Kazuo Okada, which it calls a smear campaign. The Nevada Gaming Control Board determined that Okada's allegations regarding the company's donation to the University of Macau were unfounded. Secondly, a shareholder derivative action against the company based on the same alleged Macau donation has been dismissed by the United States District Court of Nevada as there was insufficient legal basis for the case to proceed. Lastly, leading proxy advisory firm, Institutional Shareholder Services Inc, has advised Wynn shareholders to remove Okada from the board of the company at the shareholders meeting on February 22 in light of material risk that Okada's directorship poses to the company's ability received gaming licenses in new jurisdictions and maintain its licenses for current ones.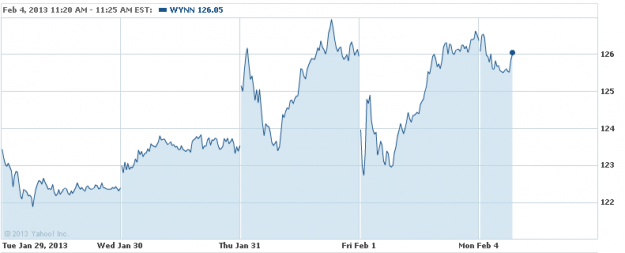 SHFL Entertainment Inc (NASDAQ:SHFL): Current Price $15.53
SHFL Entertainment Inc (NASDAQ:SHFL) has agreed with GameAccount Network to have its online proprietary table games integrated into the latter's market leading online gaming platform. Games such as Three Card Poker, Ultimate Texas Hold'em, and Fortune Pai Gow Poker will be featured on the GameAccount platform across the United Kingdom, Italy and Spain once regulatory approvals are received."Working closely with SHFL to bring their unique table games online in technically challenging regulated markets is a privilege," said Dermot Smurfit, Chief Executive Officer for GAN. "Our clients eagerly await the launch of world-famous SHFL table game brands across our network of iGaming operators."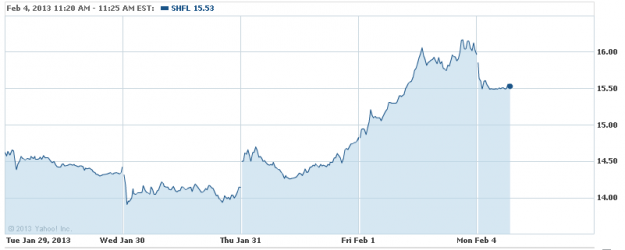 Investing Insights: Is Beazer Homes a Sensible Investment?