Canadian Solar Inc. Earnings: Triples Profits as Revenues Shine 31.6% Higher
Although profit increased, Canadian Solar Inc.'s (NASDAQ:CSIQ) net income missed estimates in the most recent quarter. Canadian Solar, Inc. designs, develops, manufactures and sells solar cell and solar module products that convert sunlight into electricity. 10 Solar Stocks You Must Add to Your Investing Watch List Now>>
Don't Miss: Wall St. Cheat Sheet's newest Feature Trades of the Month!
Canadian Solar Earnings Cheat Sheet for the First Quarter
Results: Net income for Canadian Solar Inc. rose to $5.9 million (13 cents/share) vs. $1.5 million (3 cents/share) in the same quarter a year earlier. A more than threefold rise from the year earlier quarter.
Revenue: Rose 31.6% to $443.4 million YoY.
Actual vs. Wall St. Expectations: CSIQ fell short of the mean analyst estimate of 41 cents/share. Estimates ranged from 17 cents per share to 59 cents per share.
Quoting Management: Dr. Shawn Qu, Chairman and Chief Executive Officer of Canadian Solar, remarked: "First quarter 2011 results were in line with prior guidance. Based on sales volumes and customer feedback, Canadian Solar continues to build a successful downstream brand and gain market share in key solar industry markets worldwide. Of note, the Canadian market continues to be encouraging, with sales volumes expected to nearly double in 2011 compared to 2010. Also, indications are that the demand in Japan will return to more normal levels in the third quarter of 2011, once activity levels recover from the recent natural disaster. Finally, we continue to expand our brand and business in Germany and the U.S., among other markets."
Competitors to Watch: First Solar, Inc. (NASDAQ:FSLR), Trina Solar Limited (NYSE:TSL), SunPower Corporation (NASDAQ:SPWRA), JA Solar Hldgs. Co., Ltd. (NASDAQ:JASO), China Sunergy Co., Ltd. (NASDAQ:CSUN), Suntech Power Hldgs. Co., Ltd. (NYSE:STP), Yingli Green Energy Hold. Co. Ltd. (NYSE:YGE), LDK Solar Co., Ltd (NYSE:LDK), General Electric (NYSE:GE) and Evergreen Solar, Inc. (NASDAQ:ESLR)
Stock Performance: Shares of CSIQ up a penny after hours from today's close.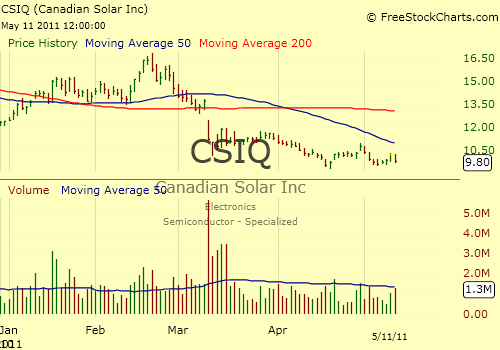 Don't Miss Wall St. Cheat Sheet's newest Feature Trades of the Month!