Cantor Cools on Twitter, Wendy's Restaurant Sale, and 3 More Hot Stocks
Twitter Inc. (NYSE:TWTR): Though he commends Twitter's future potential, Cantor analyst Youssef Squali has pulled his Buy rating on the stock, citing valuation concerns. "While we're impressed with Twitter's growth and future potential … we believe the current valuation already reflects much of this potential," Squali said, adding that the firm prefers Facebook's (NASDAQ:FB) numbers to the microblogging service.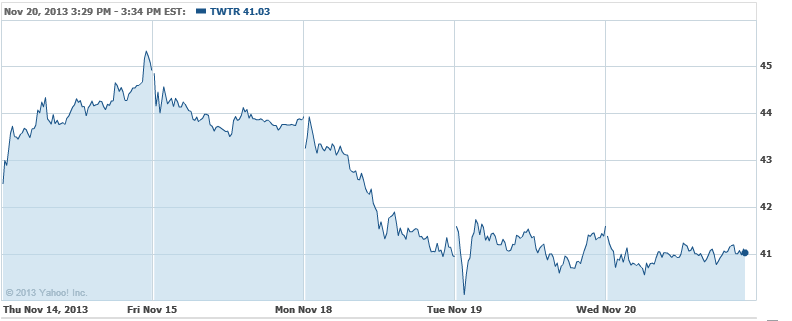 Wendy's Co. (NYSE:WEN): Wendy's announced that it will sell 54 restaurants in the Salt Lake City area to NPC International to help Wendy's improve its margins and free cash flow by further concentrating restaurant ownership to qualified operators in key regions. NPC currently operates 37 locations in two states; financial terms were not disclosed.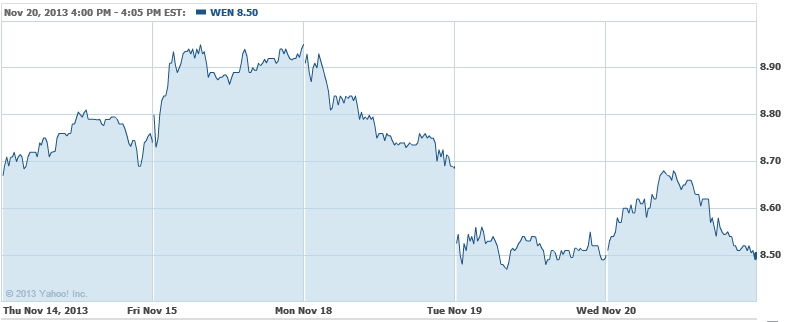 GlaxoSmithKline (NYSE:GSK): GlaxoSmithKline has completed the sale of its shares of Aspen, netting $694 million in the process. It sold 28.2 million shares in Aspen Pharmacare at 250 rand (about $25) each. After the sale, GlaxoSmithKline is left with a 12.4 percent stake in the South African company.
Best Buy Co. (NYSE:BBY): Best Buy shares are recovering from Tuesday's dip after a positive note from Citigroup came out. The firm notes that the drop provides a good buying opportunity based on increasing sales and greater prospects for stock buybacks in the future. Citi put a Buy rating on the shares.

J. M. Smucker Co. (NYSE:SJM): Shares are trading down after Smucker's quarterly report, which saw earnings per share of $1.52 miss by 8 cents and net sales of $1.56 billion miss by $0.05 billion, despite lower commodity costs. However, Smucker had to give some of it right back to consumers, as pricing in the food sector became more competitive during the third quarter. The company saw gains in Crisco oils, Folgers coffee, Jif peanut butter, and Smuckers fruit spreads, which helped offset declines in flour and canned milk volumes.

Don't Miss: Micron Paints a Target on Intel's Back With New Processor Technology.