Capital One Financial Earnings: The Great Recession Came to an End in the First Quarter
S&P 500 (NYSE:SPY) component Capital One Financial Corporation (NYSE:COF) reported net income above Wall Street's expectations for the first quarter. Capital One Financial Corporation is a financial services company which markets a variety of financial products and services through its banking and non-banking subsidiaries.
Don't Miss: Wall St. Cheat Sheet's newest Feature Trades of the Month!
Capital One Financial Earnings Cheat Sheet for the First Quarter
Results: Net income for Capital One Financial Corporation rose to $1.02 billion ($2.21/share) vs. $636.3 million ($1.40/share) YoY. A rise of 59.7% from the year earlier quarter.
Revenue: Fell 20% to $4.1 billion YoY.
Actual vs. Wall St. Expectations: COF beat the mean analyst estimate of $1.54/share. Estimates ranged from $1.29 per share to $1.96 per share.
Quoting Management: "We are gaining momentum across our businesses, and the period of shrinking loans through the Great Recession came to an end in the first quarter," said Richard D. Fairbank, Capital One's Chairman and Chief Executive Officer. "Our solid first quarter results and our strong and resilient balance sheet put us in a good position to continue to generate capital and deliver strong and sustainable returns to our shareholders."
Key Stats:
A year-over-year revenue decrease last quarter snaps a streak of four consecutive quarters of revenue increases. The best quarter in that span was the first quarter of the last fiscal year, which saw revenue rise 37%.
Competitors to Watch: American Express Company (NYSE:AXP), Discover Financial Services (NYSE:DFS), Citigroup Inc. (NYSE:C), JPMorgan Chase & Co. (NYSE:JPM), Bank of America Corp. (NYSE:BAC), Northern Trust Corporation (NASDAQ:NTRS), Wells Fargo & Company (NYSE:WFC), SLM Corporation (NYSE:SLM), Wilshire Bancorp Inc (NASDAQ:WIBC), and M&T Bank Corporation (NYSE:MTB).
Today's Performance: Shares of COF are trading at $53.26, up 5.4% from the previous closing price of $50.53.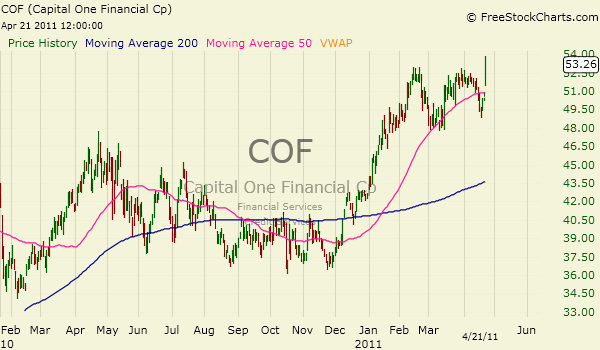 Don't Miss Wall St. Cheat Sheet's newest Feature Trades of the Month!