Capstone Turbine Scores Major Order and 2 Other Hot Stocks to Watch
Capstone Turbine Corporation (NASDAQ:CPST): Current price $1.14
On Tuesday, Capstone said that its distributor, RSP Systems, has received a major order for one of the most prominent privately-held real estate and investment firms in the country. The order for multiple buildings is from Related Companies, which is an entrepreneurial innovator and industry mover in environmentally conscious real estate development, and includes multiple Capstone C65 and C200 Dual Mode microturbines, which should be installed during the next two years in a number of its new best-in-class office buildings, apartments, and mixed-use properties.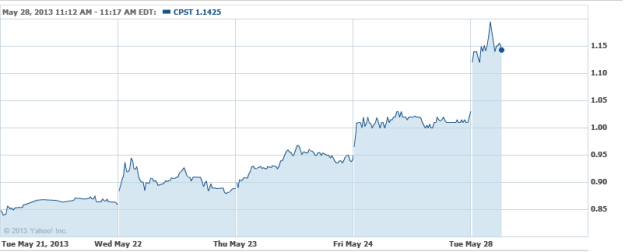 Tesla Motors (NASDAQ:TSLA): Current price $102.21
Tesla shares surpassed $100 per share for the first time, while the electric automaker gets ready to announce an expansion of the charger network for its vehicles this week. By 10:13 a.m. Eastern Time, Tesla had gained 6.4 percent to $103.30 after jumping as much as 7.8 percent to $104.63. The shares have almost tripled in value in 2013 through May 24, compared with a 16 percent increase for the Russell 1000 Index. Chief Executive Elon Musk said May 20 that the announcement of the expansion of the company's supercharger network was being pushed back to this week after Tesla repaid a United States loan ahead of time.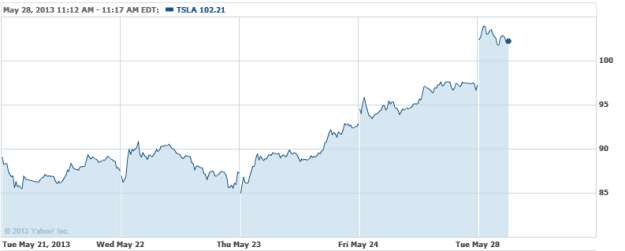 Canadian Solar (NASDAQ:CSIQ): Current price $9.89
U.S. shares of Canadian Solar soared before Tuesday's open on word that the firm posted a far narrower first-quarter loss year-over-year from 2012. In premarket trading, Canadian Solar shares moved up by $2.09, or 24 percent, to $10.70. For the quarter ended March 31, Canadian Solar posted a loss of $4.4 million, or 10 cents per share, compared with a loss of $21.3 million, or 49 cents per share, in the same period of 2012.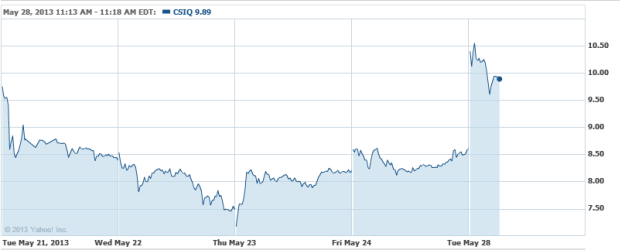 Don't Miss: Consumer Confidence Hits Highest Level Since February 2008.