Cardinal Health Earnings: Shareholders Selling
S&P 500 (NYSE:SPY) component Cardinal Health Inc. (NYSE:CAH) reported its results for the third quarter. Cardinal Health, Inc. offers products and services that improve the safety and productivity of healthcare providers.
Don't Miss: Wall St. Cheat Sheet's newest Feature Trades of the Month!
Cardinal Health Earnings Cheat Sheet for the Third Quarter
Results: Net income for the drug wholesaler rose to $246 million (71 cents/share) vs. $222.4 million (61 cents/share) in the same quarter a year earlier. A rise of 10.6% from the year earlier quarter.
Revenue: Rose 7.1% to $26.07 billion YoY.
Actual vs. Wall St. Expectations: CAH beat the mean analyst estimate of 69 cents/share. Estimates ranged from 66 cents per share to 74 cents per share.
Quoting Management: "Our third-quarter results highlight the ongoing momentum of our business," said George Barrett, chairman and chief executive officer of Cardinal Health. "Our Pharmaceutical Segment led the way with 25 percent year-over-year profit growth, fueled by excellent performance in our pharmaceutical distribution business and the contribution of acquisitions completed earlier this year. Although the rising cost of commodities put pressure on our Medical Segment, our underlying performance was encouraging and our market position continues to strengthen."
Key Stats:
Gross margins grew 0.3 percentage point to 4.5%. The growth seemed to be driven by increased revenue, as the figure rose 7.1% from the year earlier quarter while costs rose 6.8%.
Over the last five quarters, revenue has increased 0.5% on average year over year. The biggest increase came in the most recent quarter, when revenue rose 7.1% from the year earlier quarter.
Competitors to Watch: AmerisourceBergen Corp. (NYSE:ABC), McKesson Corporation (NYSE:MCK), Integra LifeSciences Hldgs. Corp. (NASDAQ:IART), Thermo Fisher Scientific Inc. (NYSE:TMO), Teleflex Incorporated (NYSE:TFX), Covidien plc (NYSE:COV), General Electric Company (NYSE:GE), CVS Caremark Corporation (NYSE:CVS), Walgreen Company (NYSE:WAG), and Owens & Minor, Inc. (NYSE:OMI).
Today's Performance: Shares of CAH are trading at $43.15 as of April 28, 2011 at 10:08 AM ET, down 2.18% from the previous close.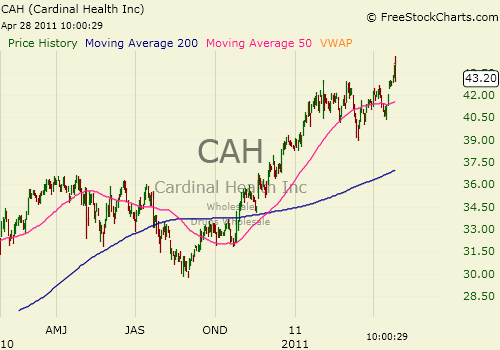 Don't Miss Wall St. Cheat Sheet's newest Feature Trades of the Month!
]]>