Carefusion Corporation Earnings: Swung to a Profit
S&P 500 (NYSE:SPY) component Carefusion Corporation (NYSE:CFN) reported its results for the third quarter. CareFusion Corp is a medical technology company offering clinically proven products and services designed to improve the safety and quality of healthcare.
Don't Miss: Wall St. Cheat Sheet's newest Feature Trades of the Month!
Carefusion Earnings Cheat Sheet for the Third Quarter
Results: Swung to a profit of $45 million (20 cents/diluted share) in the quarter. The medical instruments and supplies company had a net loss of $9 million or a loss of 4 cents per share in the year earlier quarter.
Revenue: Rose 4% to $867 million YoY.
Actual vs. Wall St. Expectations: CFN reported adjusted net income of of 42 cents/share. By that measure, the company beat the mean estimate of 40 cents/share. Estimates ranged from 37 cents per share to 42 cents per share.
Quoting Management: "Our business performed well in the quarter, driving revenue and operating earnings growth year-over-year and expanding margins through a favorable product mix and disciplined expense control," said Kieran Gallahue, chairman and CEO. "Our earnings for the quarter outperformed our internal expectations, giving us confidence to raise the lower end of our adjusted EPS guidance and narrow the range to $1.60 to $1.65. Additionally, we continue to make progress in our efforts to optimize our product portfolio. We recently completed the divestiture of two businesses and acquired Vestara, expanding our core Pyxis medication management portfolio to include technology that enables hospitals to automate the segregation of pharmaceutical waste."
Competitors to Watch: Teleflex Incorporated (NYSE:TFX), Covidien plc (NYSE:COV), Thermo Fisher Scientific Inc. (NYSE:TMO), Cardinal Health, Inc. (NYSE:CAH), Masimo Corporation (NASDAQ:MASI), Angeion Corporation (NASDAQ:ANGN), NeuroMetrix, Inc. (NASDAQ:NURO), Baxter International Inc. (NYSE:BAX), C.R. Bard, Inc. (NYSE:BCR), and Stryker Corporation (NYSE:SYK)
Stock Performance: Shares of CFN are unchanged at $28.92 in after hours trading.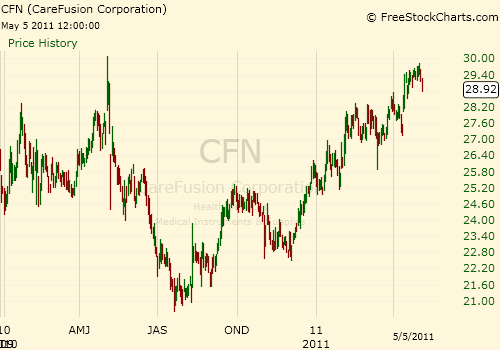 Don't Miss Wall St. Cheat Sheet's newest Feature Trades of the Month!