Carnival Corp Earnings Cheat Sheet: Net Income Falls
S&P 500 (NYSE:SPY) component Carnival Corporation (NYSE:CCL) reported results for the second quarter. Carnival Corporation is a cruise and vacation company operating in the United States and internationally. It offers a portfolio of various recognized cruise brands and provides cruises to all main vacation destinations. It has a North America segment separate from a Europe, Australia & Asia segment.
Don't Miss: Wall St. Cheat Sheet's newest Feature Trades of the Month!
Carnival Earnings Cheat Sheet for the Second Quarter
Results: Net income for the cruise line fell to $206 million or 26 cents per diluted share from $252 million or 32 cents per diluted share in the year earlier quarter. A drop of 18.3% YoY.
Revenue: Revenue rose 11% to $3.6 billion from the year earlier.
Actual vs. Wall St. Expectations: CCL beat the mean analyst estimate of 23 cents/share. Estimates ranged from 19 cents per share to 24 cents per share. It beat the average revenue estimate of $3.52 billion.
Quoting Management: Commenting on the second quarter, Carnival Corporation & plc Chairman and CEO Micky Arison said, "Our North America brands' revenue yields increased three percent in the second quarter while yields for our Europe, Australia and Asia brands were up slightly (constant dollars), having been affected by the geo-political events which unfolded in the Middle East and North Africa, as well as the earthquake and nuclear disaster in Japan. The revenue yield improvement was more than offset by higher fuel prices which cost the company approximately $150 million, or $0.19 per share."
Companies to Watch: Carnival plc (NYSE:CUK), Ambassadors Intl., Inc. (NASDAQ:AMIE), Royal Caribbean Cruises Ltd. (NYSE:RCL), Wyndham Worldwide Corp. (NYSE:WYN), Priceline.com (NASDAQ:PCLN), Delta Airlines (NYSE:DAL), JetBlue (NASDAQ:JBLU), American Airlines (NYSE:AMR) and Southwest Air (NYSE:LUV).
Stock Performance: Shares of CCL are up 3.75% today.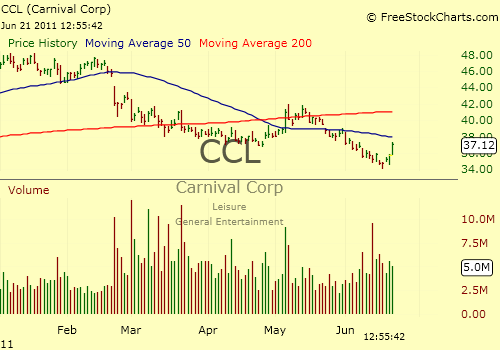 Don't Miss Wall St. Cheat Sheet's newest Feature Trades of the Month!
(Source: Xignite Financials)