Casella Waste Systems, Inc. Earnings Cheat Sheet: Streak of Three Straight Losses Snapped
Casella Waste Systems, Inc. (NASDAQ:CWST) swung to a profit in the fourth quarter and beat Wall Street's expectations in the process. The Company provides resource management expertise and services to residential, commercial, municipal and industrial customers, mainly in the areas of solid waste collection, transfer, disposal and recycling services.
Don't Miss: Wall St. Cheat Sheet's newest Feature Trades of the Month!
Casella Waste Systems Earnings Cheat Sheet for the Fourth Quarter
Results: Swung to a profit of $48.8 million ($1.85/diluted share) in the quarter. Casella Waste Systems, Inc. had a net loss of $5.2 million or a loss 20 cents per share in the year earlier quarter.
Revenue: Fell 2.8% to $109.5 million YoY.
Actual vs. Wall St. Expectations: CWST beat the mean analyst estimate of a loss of 30 cents/share. Estimates ranged from a loss of 14 cents per share to a loss of 45 cents per share. Analysts were expecting revenue of $111 million.
Quoting Management: "Over the past year we have made significant progress on important strategic initiatives, including the sale of our non-integrated recycling assets for an accretive multiple and the refinancing of our then existing senior subordinated notes and senior secured credit facilities," said John W. Casella, chairman and CEO of Casella Waste Systems. "While our team executed extremely well on these long-term initiatives, we experienced significant operational challenges over the last six months of our fiscal year, with both internal and external factors contributing to our underperformance."
Key Stats:
CWST's profit in the latest quarter follows losses in the three previous quarters. The company reported a net loss of $6.4 million in the third quarter, a loss of $1.2 million in the second quarter and a loss of $2.9 million in the first.
The company topped expectations last quarter after falling short of forecasts in the third quarter with a loss of 26 cents versus a mean estimate of a loss of 19 cents per share.
Competitors to Watch: Waste Connections, Inc. (NYSE:WCN), Republic Services, Inc. (NYSE:RSG), Waste Management, Inc. (NYSE:WM), WCA Waste Corporation (NASDAQ:WCAA), Perma-Fix Environmental Services, Inc. (NASDAQ:PESI), Progressive Waste Solutions Ltd (NYSE:BIN) and Industrial Services of America, Inc. (NASDAQ:IDSA).
Stock Performance: Shares of CWST are unchanged from the previous close of $5.82.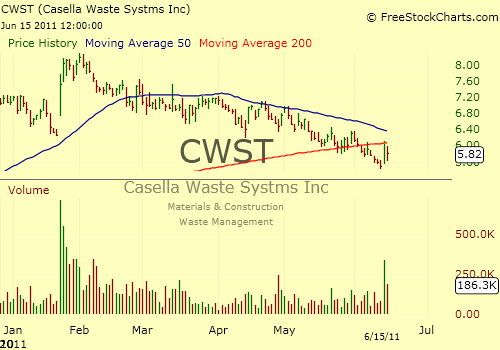 Don't Miss Wall St. Cheat Sheet's newest Feature Trades of the Month!
(Source: Xignite Financials)