Caterpillar and Glaxo Earnings Disappoint While Boeing Soars: Market Recap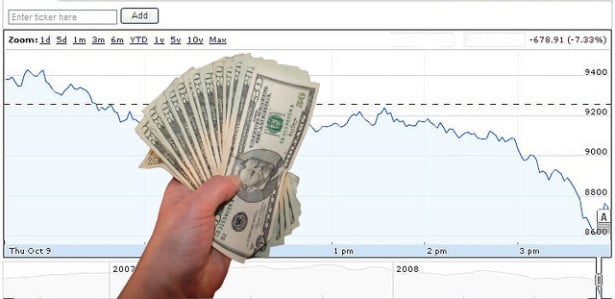 U.S. stocks fell during trading on Wednesday, breaking a four-day winning streak for the S&P 500 as companies reported disappointing third-quarter earnings. The S&P 500 hit its highest point since December of 2009 during trading yesterday, as investors believe that the Federal Reserve will be forced to wait on curbing stimulus because of the government shutdown earlier this month.

Gold: -0.69% to $1,333.30 per ounce Oil: -1.41% to $96.91 per barrel U.S. 10-Year: -1.07 to 2.485%
Will the Chinese Government Consider a Tighter Monetary? The Chinese government may be considering a modest tightening of monetary policy according to an official at the People's Bank of China, Reuters reports. This comes as the Chinese central bank has put the brakes on liquidity operations for the second day in a row today.
Is a Grand Bargain on the Budget Really Possible? Republican Jim Nussle, the director of the Office of Budget and Management during the administration of the George W. Bush, and Steven Rattner, former Treasury official for the Obama administration, had words to say last week regarding budget negotiations in Washington. According to CNBC, both are hopeful of this "grand bargain" everyone else — including Senator John McCain (R-Ariz.) — seems to think will be too elusive.

Import and Export Price Pressures Increase in September: Global price pressures remained soft in September, according to import and export price data released by the U.S. Bureau of Labor Statistics on Wednesday. Generally speaking, inflationary pressures across the board have been weak — if present at all — and trade data suggest that the trend continued through the end of the third quarter.
Here's your cheat sheet to today's top stocks stories:
Twitter's (NYSE:TWTR) financial terms of its initial public offering bespeak a far different beginning to life as a public company than Facebook's (NASDAQ:FB) conditions. The latter was extended a credit line of $8 billion, and its IPO raised $16 billion, of which the underwriting banks received 1.1 percent in fees. Twitter is going public for a sum of $1 billion, with an underwriting fee of 3.25 percent and a credit line of $1 billion from its underwriters that will mature in October 2018.
GlaxoSmithKline (NYSE:GSK) reported earnings on Wednesday that showed the pharmaceutical company has been hit hard by its bribery scandal in China earlier this year and increasing competition from generic versions of Glaxo's medicines. Sales in China were down 61 percent for the quarter. On the earnings conference call, CEO Andrew Witty said that Glaxo is "totally committed to China" and there are no chances of the company pulling out of the country.

Caterpillar (NYSE:CAT) investors have to question whether the machinery manufacturing company is closer to the beginning or the end of its downturn. In the past several quarters, a pattern has begun to emerge, bulldozed into existence by the ongoing weak global economy that has quelled demand from Caterpillar's mining customers; in each of the past four quarters, Caterpillar has badly missed consensus forecasts for earnings, and been forced to cut full-year forecasts.
Boeing Co. (NYSE:BA) closed Tuesday at $122.48 per share but climbed over 5 percent in trading on Wednesday after reporting third-quarter results that came in ahead of expectations. Boeing's revenues increased 11 percent on the year to $22.13 billion, beating the mean analyst estimate of $21.66 billion. Boeing's adjusted earnings increased 16 percent on the year to $1.80 per share, beating the mean analyst estimate of $1.54 per share.
Netflix (NASDAQ:NFLX) shares have fluctuated post-earnings this week, but overall are up 250 percent for the year. Activist investor Carl Icahn disclosed in a filing late Tuesday that his Icahn Enterprises (NYSE:IEP) and affiliates recently sold nearly 3 million shares of Netflix, reducing Icahn's holdings to 4.5 percent of shares outstanding from more than 9 percent reported at the end of June. Icahn initially started to sell Netflix shares on October 10, when shares traded between $296 and $307.
AT&T (NYSE:T) closed the regular session on Wednesday up 0.14 percent at $35.28 per share, and remained relatively flat in post-market trading after reporting third-quarter financial results that were consistent with expectations. AT&T's consolidated revenues increased 2.2 percent on the year to $32.2 billion, narrowly beating the mean analyst estimate of $32.19 billion. Adjusted earnings climbed 6.5 percent on the year to 66 cents per share, also beating the mean analyst estimate of 65 cents per share. AT&T added 2 million new wireless and highline broadband subscribers in the quarter.
Follow Jacqueline on Twitter @Jacqui_WSCS
Don't Miss: Did a Time Crunch Hurt Obamacare's Exchange Rollout?