Caterpillar Improves Profit Margin and Raises Guidance
If there has been one company at the center of the global construction story, its Caterpillar (NYSE:CAT).   Aside from the fundamental growth story, the ability to move workers to lower cost countries, play the U.S. tax code (as any good multinational), and benefit from government spending the world over are amongst its drivers.  The acquisition of Buycrus (NASDAQ:BUCY) was a brilliant fit, at least from this set of eyes.  The main concern here go forward is either too high of expectations and/or the increase in commodity costs beginning to hit their cost structure.  But thus far, neither are the case – indeed gross margins actually expanded nearly 2%.  Another sizzling report this morning.
Gross margin, or the difference between a company's cost of producing products and the price it receives for them, widened to 30.1% from 28.5%.
Construction-industries revenue, the largest sales contributor, jumped 71%, while power-systems sales were up 51%.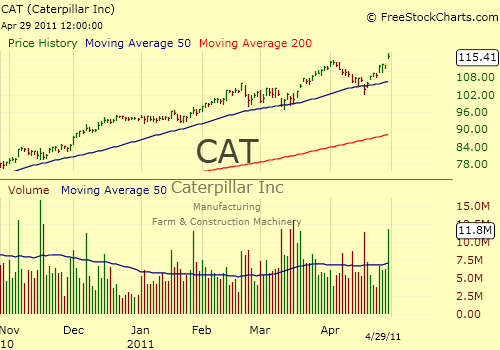 Via Briefing.com
Caterpillar (NYSE:CAT) beats by $0.53, beats on revs; raises FY11 EPS (midpoint) above consensus, raises revs, in-line; FY11 Japan impact ~$300 in rev, $100 bln op. profit
Reports Q1 (NYSE:MAR) earnings of $1.84 per share, $0.53 better than the Thomson Reuters consensus of $1.31; revenues rose 57.2% year/year to $12.95 bln vs the $11.69 bln consensus.
Co raises guidance for FY11, raises EPS to $6.25-6.75 from near $6.00 vs. $6.26 Thomson Reuters consensus; raises FY11 revs to $52-54 bln from >$50 bln vs. $52.43 bln Thomson Reuters consensus.
The order backlog was $20.8 bln at March 31, 2011, a new record. During the first quarter of 2011 the order backlog increased 11 percent from $18.7 billion at December 31, 2010, and is significantly higher than March 31, 2010, which was $12.7 billion.
"While our 2011 outlook has improved, the increase would have been greater if not for the impact of the disaster in Japan (NYSE:EWJ). Our facilities were not damaged by the earthquake and tsunami, but many of our suppliers in Japan were impacted. As a result, we are experiencing sporadic production disruptions at many of our facilities around the world. We expect the disruptions will have a negative impact on sales, factory efficiency and costs–particularly in the second quarter. While the situation has steadily improved in the aftermath of the disaster, it will likely have a negative impact on 2011 sales of about $300 million and negatively impact operating profit by about $100 million…
Acquisitions of MWM and Bucyrus (NASDAQ:BUCY) have not been completed and, as a result, are not included in our outlook for 2011. However, the outlook does include about $50 million of expense for the bridge financing facility related to the planned acquisition of Bucyrus plus some additional costs related to integration planning… Given our strong cash position, we believe sufficient cash will be available to minimize or eliminate the need for new equity to complete the Bucyrus acquisition."
Don't Miss Wall St. Cheat Sheet's newest Feature Trades of the Month!
This is a guest post written by Trader Mark who runs the blog Fund My Mutual Fund.