Caterpillar: Japan Facilities are Fine, Donating to Relief, and Sales Up
Capital Goods (NYSE:XLI) giant Caterpillar (NYSE:CAT) is out with three data points today.
First, the company issued a press release stating:
"Caterpillar's facilities in Tokyo, Akashi and Sagami were not damaged by the earthquake, and are outside of the current area the Japanese government has declared as a mandatory evacuation zone. Both the Sagami and Akashi facilities have continued to operate and produce product, although the current situation in Japan (NYSE:EWJ) is having some impact on production, which has varied day to day over the last week.
To date, the disruption to the supply chain in Japan has not stopped production at other Caterpillar facilities around the world; although moving forward, it is possible those facilities may be sporadically impacted as a result of the situation in Japan."
Second, Caterpillar is joining Dow 30 (NYSE:DIA) companies like McDonald's (NYSE:MCD) in the Japanese relief effort. The company has created a $1 million grant to the American Red Cross and Caterpillar Japan Limited has pledged an additional $1 million, and the fund will match up to $500,000 in Caterpillar employee, retiree and dealer employee contributions to the Red Cross. In addition, Caterpillar Japan Limited is offering the use of machinery and generator sets to governmental agencies in Japan (NYSE:EWJ) to assist in the recovery efforts.
Lastly, Caterpillar (NYSE:CAT) announced machinery sales for the quarter were up 59% — growth was especially awesome in Latin America (NYSE:ILF).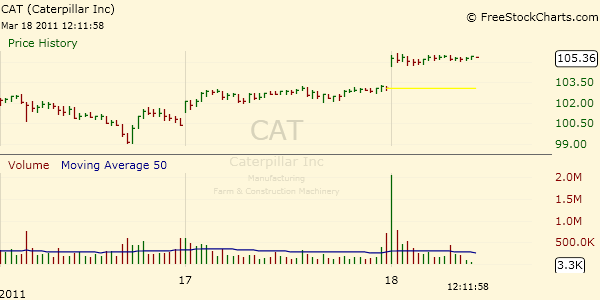 Shares of Caterpillar (NYSE:CAT) are up 2%.