Caterpillar Settles With Milwaukee Union and 2 Other Dow Movers to Watch
Caterpillar (NYSE:CAT): Current price $86.47
Caterpillar and the union that represents roughly 800 of its Milwaukee workers who make specialized mining machinery, have signed onto a new, six-year tentative labor agreement, according to the firm, which had said that it had resumed contract talks with the union on May 23, ending a two-week hiatus in negotiations. The Milwaukee workers had turned down a prior proposed contract that, in part, would have frozen wages and formed a second, lower-tier wage level for new employees. The existing contract expired on April 30.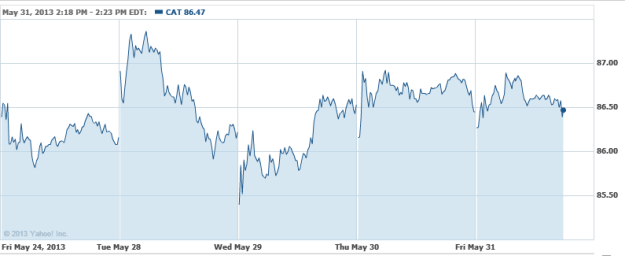 The Travelers Companies (NYSE: TRV): Current price $84.54
On Friday, Travelers announced an improvement to the public entity management liability policy that supplies limited special expenses coverage reimbursement, pertaining to the replacement of key employees should a death or medically confirmed situation lead to their resignation or retirement. When a crucial public employee be unexpectedly injured or otherwise medically incapacitated, a number of essential steps must take place so as to maintain an organization's normal business operations. Often, a search firm must be recruited to find a permanent replacement, or the company needs to hold a special election to replace a public official, all of which can result in financial stress for the organization.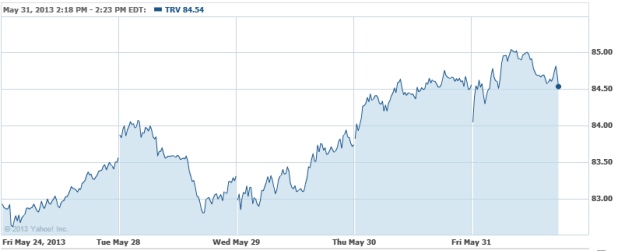 E.I. DuPont de Nemours and Company (NYSE:DD): Current price $56.45
DuPont Chair and Chief Executive Ellen Kullman told investors during the Sanford Bernstein Strategic Decisions Conference, that her company's "Integrated Science" affords it an advantage such as no other company, to provide value to customers and shareholders.  Kullman said that "DuPont's three areas of scientific strength – agricultural sciences, biosciences and material sciences – are integrated and leveraged across our company to deliver unique solutions to customers' problems and create value for our shareholders." She also cited  examples such as DuPont's endeavors in improving fuel efficiency, creating advanced biofuels, enhancing food quality, and growing applications of renewably-sourced polymers.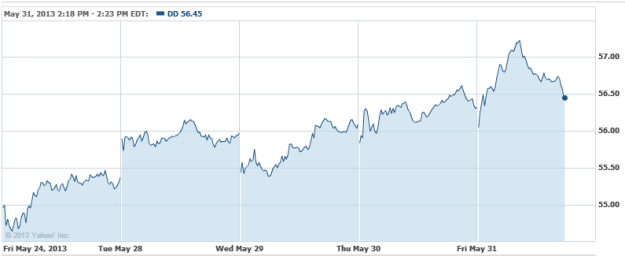 Don't Miss: Good News Keeps Coming For Boeing.