Caterpillar Wants Illinois Pension System Fixed and 2 Other Dow Movers to Watch
Caterpillar (NYSE:CAT): Current price $83.04
Caterpillar Chairman and Chief Executive Doug Oberhelman says that the Illinois pension system is in "deep trouble" and must be repaired for its home state to become more competitive. On Thursday, during an Illinois Chamber of Commerce event in Chicago, Oberhalman said that "it is unsustainable and without some major changes the financial stability of our state is in jeopardy." Illinois is said to have the worst-funded state retirement system in the United States, and its lawmakers failed to address a $97 billion unfunded pension liability before ending the legislative session on May 31st. Oberhelman said that Caterpillar has invested more in Illinois than did other states in 2012.

McDonald's Corporation (NYSE:MCD): Current price $99.52
The fast-food megalith's licensee in Israel has refused a proposal to open a restaurant in a mall located in a West Bank settlement, provoking criticism from pro-settler groups and the supermarket-chain owner Rami Levy. The company, owned by Omri Padan, decided not to add a store in Ariel, which lies beyond the boundary that was in effect prior to the Six-Day War in 1967, according to Levy, who is developing the mall through a private company. In an e-mailed statement, Padan's representatives said that licensee has always maintained a policy of remaining within the border. Levy responded that "They are making a mistake, and they shouldn't mix politics with business. Business serves the interest of both peoples because it gives them jobs."

Verizon Communications (NYSE:VZ) Current price $51.15
Verizon Communications' Verizon Wireless division has recently introduced some hardy 4-gigabyte smartphones from CASIO. The G'zOne Commando offers durability, and is powered with the 4-gigabyte network tech. The device has undergone military testing that certifies its functionality even in very adverse conditions. A similar move by AT&T occurred last week when the telecom announced the debut of the 4-gigabyte LTE smartphone NEC Terrain, in collaboration with NEC Corp. That phone will be available starting Jun 21st in AT&T's stores at $199.99 on a two-year contract. Meanwhile, Verizon is profiting from smartphone sales with the intro of devices that would reinforce data revenue moving forward; the firm's smartphone penetration has increased to 61 percent.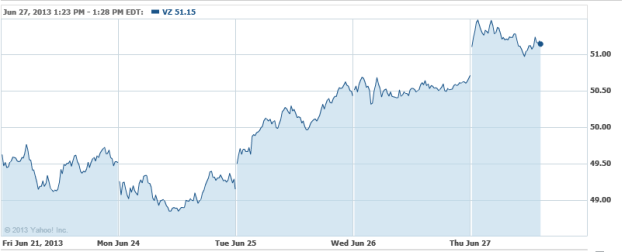 Don't Miss: Is Obama Still the Best Gun Salesman in History?