Caterpillar's Diesel Engines Challenged by GE's Natural Gas Counterparts and 2 Other Dow Movers to Watch
Caterpillar Inc. (NYSE:CAT): Current price $83.93
In an effort to displace Caterpillar, General Electric (NYSE:GE) wants to deploy more of its natural gas engines on rigs drilling for hydrocarbons in the North American energy boom, in which Caterpillar diesel engines have long stood as the industry standard. The endeavor emerges while General Electric projects that global natural gas consumption will increase by one-third through 2025, making sense of strategic investments in the gas sector.
Goldman Sachs Group Inc. (NYSE:GS): Current price $163.40
Goldman Sachs has withdrawn a loan from a commercial mortgage bond package sold to investors last week after they balked at the debt. The $47.5 million loan is connected with 10 shopping malls in Nebraska and South Dakota and was pulled out due to a "potential dispute" between the borrower and a securitization trust, according to a Wednesday filing with the Securities and Exchange Commission. Deal documents obtained by Bloomberg indicated that the debt, named the Perkins Retail Portfolio, was originated by Jefferies.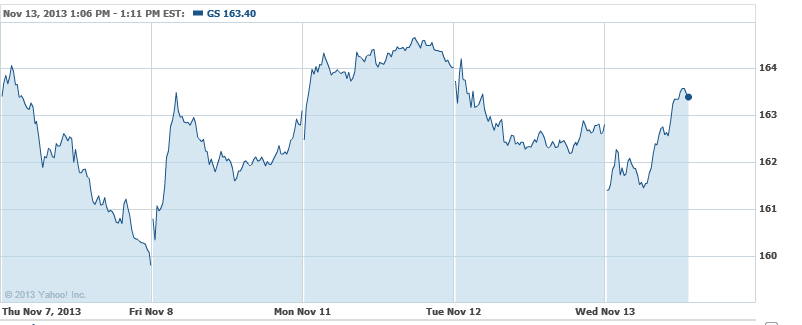 Johnson & Johnson (NYSE:JNJ): Current price $92.61
Bloomberg reports that Johnson & Johnson will pay more than $4 billion to resolve thousands of lawsuits regarding its recalled defective hip implants. The deal will settle more than 7,500 lawsuits brought against Johnson & Johnson's DePuy orthopedics division by patients who have already had the defective devices removed, sources told the news service. De Puy recalled thousands of its metal ASR hip systems because of higher-than-anticipated failure rates. Plaintiffs contend that defective metal-on-metal devices resulted in pain, discomfort, and more serious complications.

Don't Miss: Apple Is Hit with More Patent Trouble.