Caterpillar's New China Facility and 3 Dow Movers For Tuesday
Alcoa (NYSE:AA): Current price $8.37
A group of American manufacturers, including Alcoa, The Dow Chemical Company (NYSE:DOW), Celanese Corporation (NYSE:CE), Eastman Chemical Co. (NYSE:EMN), Huntsman Corporation (NYSE:HUN) and Nucor Corporation (NYSE:NUE), wants a more balanced approach to exporting liquefied natural gas, contending that only a few more facilities should be awarded permits to export LNG freely so as to protect jobs and investment in the United States, according to Financial Times.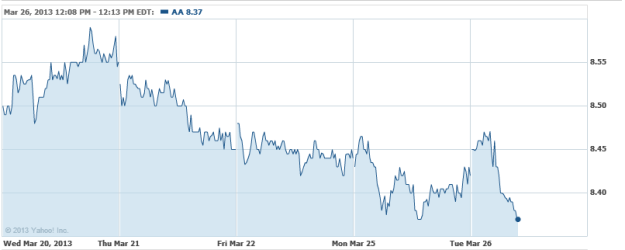 Caterpillar (NYSE:CAT): Current price $86.94
Caterpillar executives have announced the launch of a new facility and the completed expansion of another in Wuxi, China. The company opened its 23,000-square-meter power train facility in Wuxi to manufacture axles, transmissions and final drives to be employed in an array of Caterpillar earthmoving and mining machinery. The firm has also finished a 17,000-square-meter expansion at an existing component factory in Wuxi to produce hydraulic cylinders for Caterpillar machines. Both facilities form a part of the company's Advanced Components & Systems Division.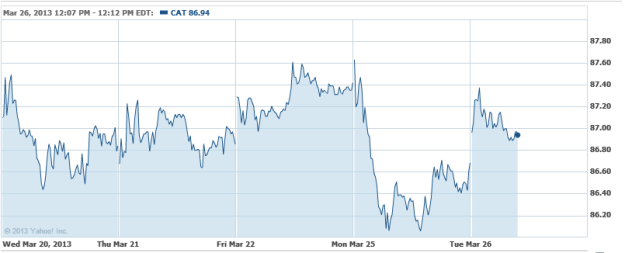 EI DuPont de Nemours & Co. (NYSE:DD): Current price $48.68
DuPont and Monsanto (NYSE:MON) have reported a number of tech licensing agreements for expansion of the range of seed products they can offer to farmers. The accords include a multi-year, royalty-bearing license for Monsanto's next-generation soybean technologies in the United States and Canada. These licenses will enable DuPont Pioneer to offer Genuity Roundup Ready 2 Yield soybeans as soon as 2014, and Genuity Roundup Ready 2 Xtend glyphosate and dicamba tolerant soybeans as early as 2015, upon regulatory approvals. Beyond that, DuPont Pioneer will receive regulatory data rights for the soybean and corn traits previously licensed from Monsanto, permitting it to create a wide repertoire of stacked trait combinations using traits or genetics from DuPont Pioneer or others.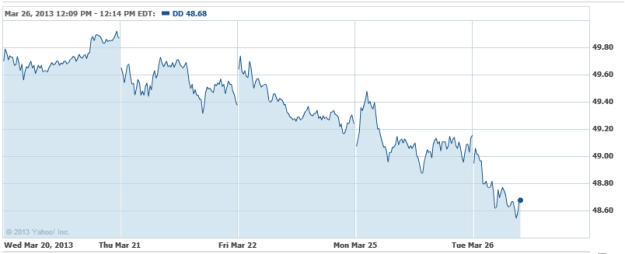 The Walt Disney Company (NYSE:DIS): Current price $56.55
Even though Hulu is not officially up for sale, its corporate owners, including Disney , News Corp (NASDAQ:NWSA) and Comcast Corporation  (NASDAQ:CMCSA), are beginning to be contacted by would-be buyers, according to AllThingsD. One potential suitor is Ross Levinsohn, who attempted to acquire Hulu when he ran Yahoo in 2011. Sources say that Yahoo! (NASDAQ:YHOO) and Amazon.com (NASDAQ:AMZN) have also "kicked tires," but thus far no prospective buyer has made anything like a formal offer, says AllThingsD.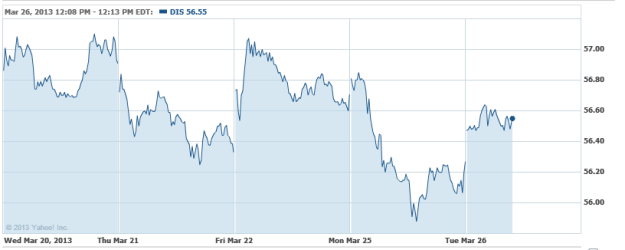 Don't Miss: Is Green Mountain Too Expensive?