Caution: SodaStream Bubbles Are More Controversial Than They Appear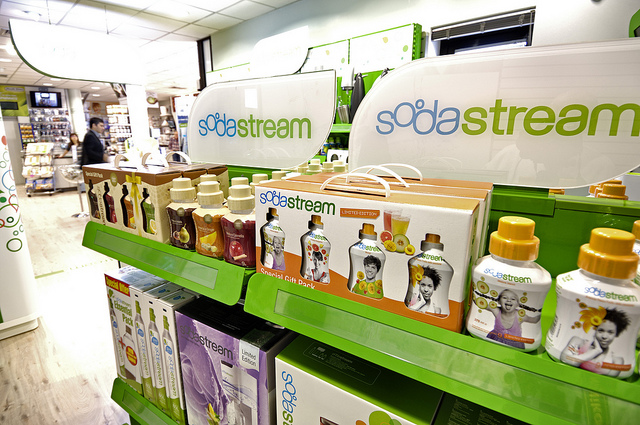 Football fans are already gearing up to watch a variety of entertaining commercials during Super Bowl XLVIII, but New York Mag elucidated Monday that some advertisements might be more controversial than others. SodaStream International (NASDAQ:SODA) will take the spotlight between plays of the big game, but the location of the Israeli company's manufacturing plant in occupied territory in the West Bank is already leading some to take its product's "guilt-free bubbles" and rename them "blood bubbles."
Sodastream's location in occupied territory complicates its marketing because its product is now offending the politically informed far left segment it typically appeals to. Sodastream's machines work by turning tap water into carbonated goodness with just three pumps of a recyclable carbon dioxide cartridge, but its beverage has quickly become a humanitarian issue for drinkers who refuse to buy or endorse the products of a company whose views they don't agree with.
New York Mag reported Monday that SodaStream has been popular in Europe since the seventies, but only recent cracked the North American market after the company was purchased by one of its Israeli distributors. CEO Daniel Birnbaum now runs the Sodastream ship, and appeals directly to those healthy, green consumers who want an alternative to Big Soda corporations, but his company is poised to face a batch of bad publicity as leftists recognize its company's location and call for comprehensive boycott, divestment, and sanctions of Israel, known as BDS.
So Sodastream understandably has a lot riding on its Super Bowl marketing; however, that's where the story also gets interesting. The company named Scarlett Johansson its "global brand ambassador" this week, and the liberal actor and environmentalist will star in Sodastream's Super Bowl commercial. NY Mag reports that the tie-up has yet to blow up into full-out controversy, but the star is already fielding criticism from certain publications like Jewish Daily Forward which wrote this week, "'Normalizing' the Israeli occupation is a bad use of her celebrity."
But it'll still be interesting to see how Johansson's starring role with Sodastream pans out, as not all leftist drinkers are aware of where the company's products are made, and many have been more than happy to jump on board the carbonation train while turning their noses up at Pepsi (NYSE:PEP) and Coke (NYSE:KO). 
NY Mag jokes that SodaStream drinkers are still enjoying their beverages, just as long as they remember to hide their machines under the kitchen sink when other lefties come over for dinner, but if word gets out surrounding the controversy, SodaStream and Johansson could still have some bigger issues on their hands. Certain activists are already protesting outside of SodaStream's most popular vendors in New York, and it's safe to say that their voices could easily carry throughout the city and abroad.
More From Wall St. Cheat Sheet: