CBS Amends Dish Lawsuit and 4 Morning Hot Stocks Trading Today
SAP AG (NYSE:SAP): Current Price $78.38
SAP AG (NYSE:SAP) provided bullish guidance for the year, projecting earnings to rise 12% as introductions of new mobile and web based programs and the fast Hana database help its growth despite shrinking economies such as the Euro zone. Adjusted operating profit is expected to rise to €5.85 billion-€5.95 billion from €5.21 billion in 2012, versus projections of €6.11 billion by analysts. SAP expects sales to exceed €20 billion by 2015, aided by new product introductions.

Motorola Solutions (NYSE:MSI): Current Price $56.92
Motorola Solutions' (NYSE:MSI) fourth quarter EPS of $1.1 beats estimates by $0.08. Revenue of $2.44 billion is up 6% but misses consensus by $0.05 billion. At $1.7 billion, government sales during the quarter were up 10% from the year ago period. However, enterprise segment sales were $733 million, down 3% from the year ago quarter. Quarterly operating cash flow generated was $564 million and the company repurchased shares worth $326 million during the quarter. For the first quarter of 2013, the company projects revenue growth of 4 to 5% compared to the same quarter in 2012 and earnings per share in the range $0.62-$0.67.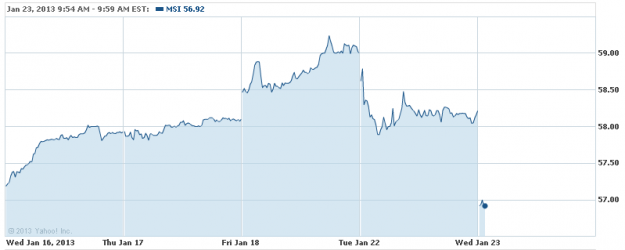 Symantec (NASDAQ:SYMC): Current Price $21.60
Symantec (NASDAQ:SYMC) reports FQ3 EPS of $0.45 and record revenue of $1.79 billion which beat by $0.07 and $50 million, respectively. "Strength in EMEA, information management and license revenue drove our FX adjusted organic revenue growth of 4%," said James Beer, Executive Vice President and Chief Financial Officer, Symantec. "Our better than expected top line growth coupled with disciplined expense management drove non-GAAP operating margins of 25.6% even as we are investing in certain areas to better serve our customer needs."

CBS (NYSE:CBS): Current Price $41.58
CBS (NYSE:CBS) is amending its lawsuit against Dish Network (NASDAQ:DISH), alleging that the latter concealed material facts relating to the development of its "autohop" ad skipping technology during the negotiation of a retransmission agreement between the two companies in 2011. CBS contended in the filing that if it had "known that Dish had developed and intended to offer this service, CBS would not have entered into the retransmission agreement on the terms set forth in the current agreement." A storm of litigation surrounds Dish Network's Hopper DVR which threatens ad revenues at major US broadcast networks by allowing consumers to skip commercials while watching recorded shows.

HJ Heinz Co (NYSE:HNZ): Current Price $60.10
HJ Heinz Co (NYSE:HNZ) announced an early earnout payment of $60 million to the previous owners of Heinz's Foodstar business in China which was acquired by Heinz in November 2010. The earnout payment supplements the original purchase price of $165 million. The Foodstar business reported outstanding financial performance and the earnout payment was therefore accelerated from July 2014, and is 20% more than the original provision, because the objectives of the earnout arrangement had been achieved. Heinz will record the payment has a special item of $0.04 earnings per share in its fiscal third quarter ending January 2013.

Investing Insights: Is TD Ameritrade Sending Mixed Signals?