CBS and Time Warner Cable Spat Continues and 3 More Hot Stocks
CBS (NYSE:CBS): CBS and Time Warner Cable (NYSE:TWC) have furthered the deadline — again — to reach an agreement in their spat over carriage fees. Time Warner maintains that CBS is demanding unreasonable rates for its programming, high above the market value. A falling through of the negotiations could see a blackout of programming in New York, Los Angeles, and Dallas, and other markets. The service will be maintained through Monday under the new extension.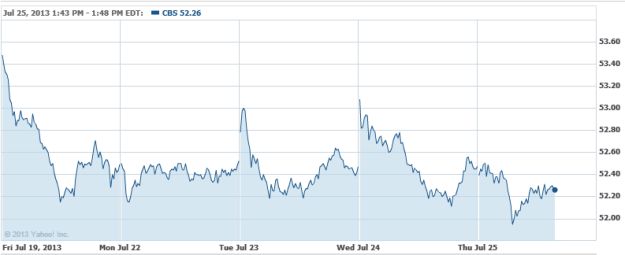 Starwood Hotel & Resorts Worldwide (NYSE:HOT): Second-quarter earnings per share of 79 cents beat projections by 6 cents, as revenue of $1.56 billion fell in line with expectations. Worldwide systemwide Revpar for same-store hotels grew by 4.4 percent, driven by strong performance in the North America, Africa, and Middle East regions. The St. Regis/Luxury and Aloft brands experienced the strongest Revpar growth for the period, as the company is guiding for $1.12 billion to $1.14 billion in Ebitda for 2013.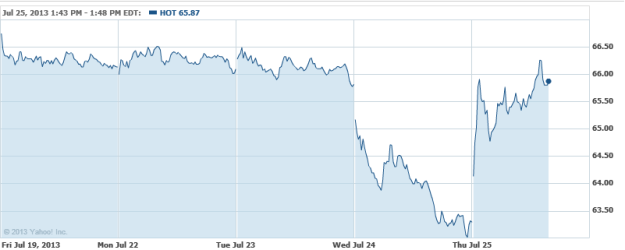 Dunkin' Donuts (NASDAQ:DNKN): EPS of 41 cents is enough to beat expectations by 1 cent, though revenue of $182.5 million missed the mark by $1.29 million. However, the chain saw a substantial income margin boost of 420 bps to 50 percent during the quarter as comparable store sales grew 4 percent. Dunkin also added 151 new restaurants during the period and has declared a 19 cent per share quarterly dividend with a forward yield of 1.81 percent.

GlaxoSmithKline (NYSE:GSK): Already burdened with its troubles in China, GlaxoSmithKline has agreed to pay out $229 million in settlements for eight states that accused the company of misrepresenting the safety and efficacy of its diabetes treatment Avandia. The drug has been linked back to increased risk of heart attacks and strokes, and the settlements pile onto an existing $90 million settlement with 37 other states and the District of Columbia over Avandia, as well as a $3 billion agreement with federal authorities over the drug and other pharmaceuticals.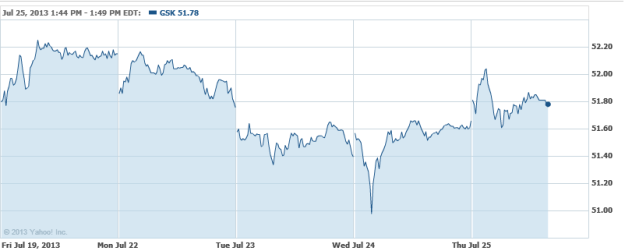 Don't Miss: Time Warner Customers Won't Lose CBS Quite Yet.