CBS Inks Agreement With Amazon and 4 Media Titans Making Waves
AOL, Inc. (NYSE:AOL):  Closing Price $36.22
RBC Capital upgraded AOL to Outperform from Sector Perform in a note released earlier today.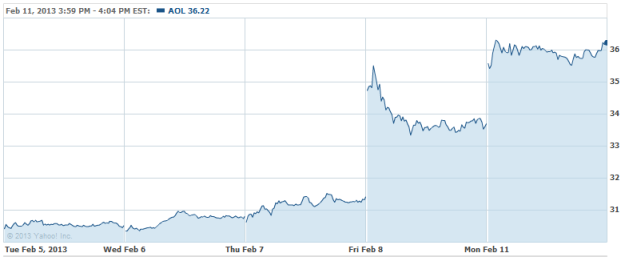 Netflix, Inc. (NASDAQ:NFLX):  Closing price $177.82
According to AllThingsD, Sony's (NYSE:SNE) movie studio has renewed a deal with Starz to show their first-run films until 2021. Some observers thought Netflix, which signed with Disney (NYSE:DIS) for a landmark deal in December, would attempt a run at Sony.

Coinstar, Inc. (NASDAQ:CSTR): Closing price $49.25
After the owner of Redbox DVD kiosks reported a sluggish film lineup this quarter that could cause results to lag behind, Coinstar Inc. plummeted to historic levels.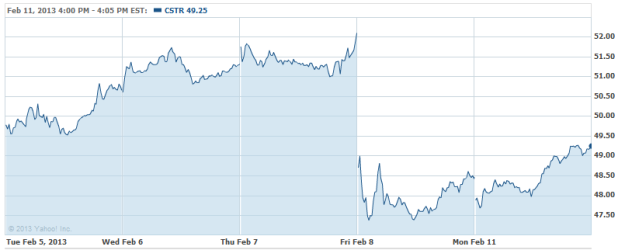 CBS Corporation (NYSE:CBS): Closing price $42.30
CBS Corporation and Amazon (NASDAQ:AMZN) announced a content licensing agreement for the new CBS television series entitled "Under the Dome," establishing an in-season, online subscription video-on-demand window for the show on Amazon's Prime Instant Video service. Prime Instant Video will be the exclusive online subscription home for "Under the Dome."

Comcast Corporation (NASDAQ:CMCSA): Current price $38.62
According to studio estimates, "Identity Thief," the comedy starring Jason Bateman and Melissa McCarthy, debuted with a $36.6 million opening over the weekend. Comcast's Universal Pictures, the distributor of the movie, estimated that the winter storm that blanketed the Northeast might have cut as much as 10% of the film's business.

Don't Miss: How Will the News Media Make Money in 2013?