CBS Scheduled to Report Earnings and 4 Media Titans Making Waves
Time Warner Cable Inc. (NYSE:TWC): Current Price: $87.16
AMC Networks has begun to discuss airing episodes of "The Walking Dead" on its lower-rated sister network, IFC, which has the possibility of boosting the network's ratings and its bargaining position with pay-TV providers, The New York Post reports. According to the report, Time Warner Cable, which is currently in negotiations to renew its deal to carry IFC, balked at paying increases for AMC's smaller networks.

CBS Corporation (NYSE:CBS): Current Price: $42.84
CBS is in the position to report Q4 earnings following Thursday's market close on February 14 and a conference call is scheduled for 4:30 pm ET. Analysts expect an EPS of 69c on revenue of $3.79 billion, according to First Call.

Walt Disney Co. (NYSE:DIS): Current Price: $54.99
The California State Teachers' Retirement System, or CalSTRS, still faces troubles due to the company's decision to recombine its Board Chair and CEO positions and the executive pay structures at Disney. CalSTRS blames poor governance structure and compensation plans on an board that lacking independence from the CEO.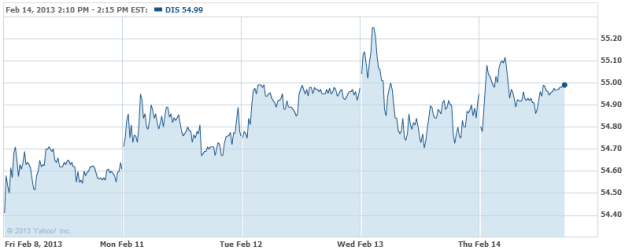 DIRECTV, Inc. (NASDAQ:DTV): Current Price: $51.85
During Q1 of 2013, DIRECTV Latin America believes that it will incur a one-time pre-tax charge of about $160 million concerning the re-measurement of Bolivian bolivar-denominated net monetary assets at the date of the devaluation on February 9, 2013. Furthermore, there will be a continued unfavorable financial impact in 2013 to DIRECTV Latin America's revenues, earnings, and cash flow growth concerning the translation of the local currency financial statements to the new official exchange rate.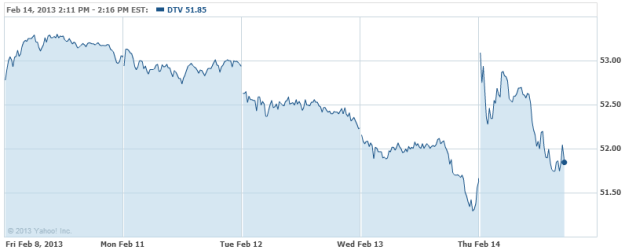 News Corp. (NASDAQ:NWSA): Current Price: $28.63
Yesterday, London police arrested six former News Corp. employees from the now-defunct News of the World tabloid due to a new line of inquiry in the police's probe of phone-hacking at the paper, claims the Wall Street Journal.

Don't Miss: Which Solar Stocks have the Strongest Earnings Trends?